Do Graphic Designers Make Websites? Busting the Myth
Designing a practical and unique website is often challenging for professionals and novices. However, among the most misinterpreted creative industries is graphic design. You must not stop conveying your message or avoid designing, even if the industry has several myths.
The graph below vividly showcases how the graphic designer occupation is believed to grow by 3% in the projected 2021-31 years and graphic designing is also evolving.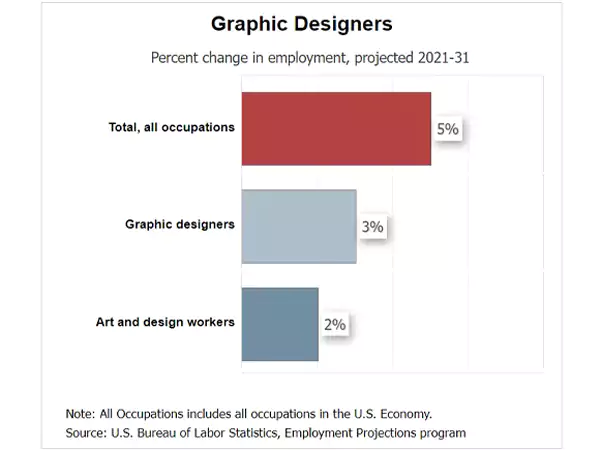 You can now bust a myth associated with graphic designers by going through this guide. It is the ideal time to debunk that graphic designers do not make websites and boost your chance for a successful graphic designing career. Creato, the ideal design agency in Australia, helps people get unique graphic design solutions to get the best from the graphic design industry.
Significance and Role of Graphic Designers
The experts who perfectly communicate information, messages, and ideas through several media forms are graphic designers. They impart their visual expertise and creativity in the designs they provide. Although their designs and services are frequently related to magazines, brochures, posters, and other print and digital media, their knowledge is extended to the virtual world.
Besides, the organization or brand's visual identification and consistency over every platform are ensured by graphic designers. The role is necessary in crafting, including digital and print media. These services also facilitate the visual and user-centric digital landscape.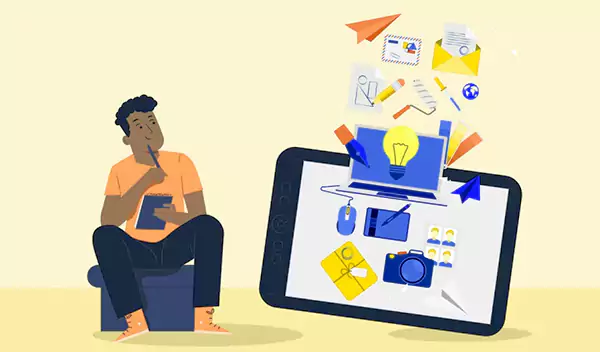 Intersection of Web Design and Graphic Design
Graphic design and web design complement and intersect each other in the development process of a website. Overall US (user experience), Navigation, UI or user interface design, layout, and several other aspects are encompassed in web designing. Branding and visual aesthetics are deeply connected with such elements, all of which come under the graphic design domain.
So, the expertise of graphic designers comes in front when cohesive and visually engaging websites are created. They do not create websites is a complete myth since they do create them in collaboration with UX designers, web developers, and many other professionals.
Interesting Fact: Fortune 500 employees is the top industry that employs the most graphic designers with upto 17%.
Busting the Myth: Graphic Designers Do Not Create Websites
Some of the aspects to clarify the myth that graphic designers do not create websites and have no role in its development include the following:
Skillset
Several graphic designers have diverse skill sets ranging from InDesign to Illustrator, Adobe Photoshop, and many other tools and software. Their skill sets are also major for website design which plays a significant role in designing logos, icons, layouts, and many other enticing visual elements. It has a pivotal role in growing businesses.
UI or User-Interface Design
The website creation's most significant aspect is a user interface that integrates well in creating user-friendly, intuitive, and visually engaging interfaces. The responsibility of graphic designers is to design interactive components, navigation menus, buttons, and many other UI elements.
Layouts of Websites
Their proficiency also extends to designing visually organized and enticing layouts of websites since they pay attention to composition and aesthetics. They create attractive and cohesive web pages by perfectly designing several design elements.
Identity and Branding
They are proficient in forming recognition and identity of a brand. These experts ensure the brand's online presence is recognizable, consistency is created, and its visual identity is aligned well with the website design.
Collaboration with Web Developers
Graphic designers provide specifications, style guides, and assets to web developers to ensure that the final layout of a website aligns well with their ideas and design concepts. These professionals are mainly focused on visual appearance and aspects.
Besides, graphic designers make responsive designs for seamless user experience and are adaptive to various screen sizes and devices. Some also consider additional training and specialization in web designing to boost their understanding of web-specific design technologies and principles.
Role of Graphic Designers in Designing the Website
Their role is very imperative in establishing a website's visual identity. Besides, their contributions and efforts are vital when shaping and designing a website's complete experience and appearance. Although their prime focus is to make visual designs and elements, some of them are experts and skilled in contributing to developing and designing.
Since web designing necessitates broader skill sets, graphic designers and web developers' collaboration is among the most effective approaches when creating a web design.
Conclusion
Graphic designers do not create websites is a complete myth. Although they do not design completely, their role is pivotal in the designing and development process. Their expertise and knowledge will perfectly align the design process, resonating well with the target market and brand label. They assist developers in building a website that differentiates your brand from the competition and perfectly reflects its identity.
Creato, the best design agency with expert graphic designers, collaborates well with the web developers Chicago and team to build an engaging and recognizable website. Once you understand their role and significance in creating and designing, the myth revolving around them that they do not make a website will automatically dispel. It will also highlight their valuable contributions and insights into the digital landscape.  
---