Everything You Need to Know about Almalinux
Key Takeaways:

Almalinux is an open-source Linux distribution.
Almalinux's compatibility with RHEL has positioned it as a viable alternative within this Linux ecosystem.
AlmaLinux is a dependable and user-friendly substitute for CentOS, fulfilling its commitment to security and ease of use.
AlmaLinux believes in the idea of open-source, where everyone gets to and changes the source code as needed. This promotes transparency and teamwork among users, encouraging innovation and making it even better. By embracing the open-source philosophy, it benefits from the collective wisdom and contributions of its community, resulting in a distribution that is constantly improving with different perspectives. You can feel all advantages of Almalinux while rent VPS from the hosting provider. 
This open-source emerges as a dependable and resilient enterprise Linux dissemination crafted by CloudLinux, to serve as a practical alternative to CentOS8. With its remarkable compatibility with RHEL and CentOS pre-Stream, it positions itself as a pragmatic solution for businesses aiming for stability.
In this upcoming article, we will explore the extensive features and the increasing recognition this source has secured.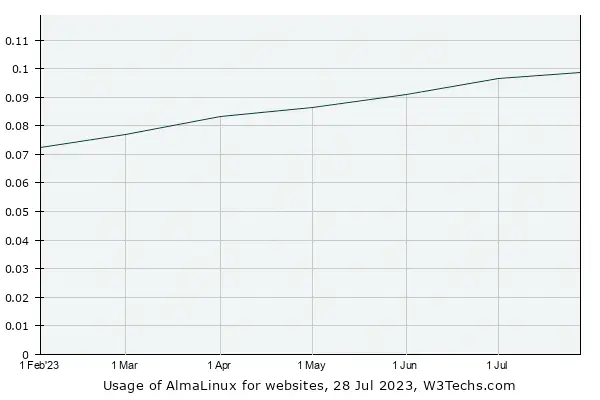 It has experienced a gradual increase in popularity among various organizations, businesses, and individuals who are in search of a reliable and freely available enterprise Linux distribution. Its compatibility with RHEL has positioned it as a viable alternative within this OS ecosystem.
As it continues to gain movement, it is prepared for further development and success, fueled by the group activities and constant dedication of its community members.
Attributes of AlmaLinux
AlmaLinux is not only about what it is but also about who should use it. It is suitable for:
Individuals seeking a migration way to a stable variation resembling CentOS.
Users seeking 24/7 assistance for their operating system
They aim to reduce costs by avoiding expenses associated with RHEL licensing
Business owners require a reliable OS assisted by a respected Linux developer like CloudLinux.
There are a few potential limitations to keep in mind about AlmaLinux:
Being a relatively new distribution, it has yet to establish a strong and well-established reputation within the Linux society. The recognition and trustworthiness of a project play a vital role in its usage.
Compatibility with certain third-party applications may still be a work in progress, and it may not yet support all of them.
It promotes a range of user-friendly features, making it suitable for those with different technical skills. Its intuitive interface supplies a familiar environment, ensuring ease of use. It provides an extensive collection of tools and utilities, equipping administrators and individuals with the resources to effectively manage and personalize their systems.
With a focus on security, it integrates advanced measures to safeguard against vulnerabilities and threats, strengthening its reputation as a dependable and secure choice for users.
The Main Advantages of AlmaLinux
Community
AlmaLinux, backed by CloudLinux, has gained attention for its knowledgeable team and reliable support from the community. It prioritizes user needs and offers tailored solutions, extensive guides, and support for Linux OS.
Control Panel
The open-source offers full support for famous control panels such as DirectAdmin and WHM/cPanel. These paid control panels maintain collaboration with AlmaLinux and ensure ongoing development, ensuring their compatibility with it and ensuring users' smooth and safe participation.
Performance
It is carefully designed for exceptional performance, enabling it to effortlessly handle resource-intensive workloads. With its proficient resource management and minimal system overhead, it excels at managing demanding tasks and ensures a seamless experience even under heavy workloads. The optimization of the source empowers people to address complex operations with ease and enhances overall technical efficiency.
Free and Open-Source
This technology is an enterprise-grade Linux distribution that operates on a society-driven model. It offers users a freely accessible platform that is systematically developed and thoroughly compatible with RHEL. The collaborative efforts of the community contribute to its continuous improvement and ensure that it remains user-friendly and reliable.
Migration
The migration from CentOS to AlmaLinux is exceptionally smooth, facilitated by a shifting script that can be executed with a single command. This simplified method simplifies and ensures a hassle-free transition for individuals.
Virtualization
It is designed to seamlessly integrate with a range of virtualization technologies, including OpenVZ and KVM. These virtualization platforms enable users to create and manage virtual environments, allowing for efficient utilization of hardware resources and facilitating the deployment of multiple operating systems on a single physical server.
Through its compatibility with OpenVZ and KVM, people can leverage virtualization to optimize their computing infrastructure, leading to improved flexibility, scalability, and resource management.
Conclusion
AlmaLinux has proven itself as a dependable and user-friendly substitute for CentOS, fulfilling its commitment to security and ease of use.
Supported by a dedicated community, the operating system is primed to leave a lasting impression and emerge as a highly regarded alternative to RHEL. It stands as a reliable and freely accessible enterprise Linux dissemination, cultivated and backed by its society.
With its seamless integration with RHEL, it streamlines the transition for users seeking stability and reliability. For those in pursuit of a stable and open-source enterprise distribution, AlmaLinux stands out as an exceptional option.
---