8 Best Things to Do in Dubai for a Fun Experience
Key Takeaways

You can foster the rich history of Dubai in the historic district of Al Fahidi.
Dubai is the world's top city that spends on visitors. With a massive amount of more than 30 Billion USD in 2018 alone, it stands at the top.
You can also opt for a private yacht charter or join a group tour, sailing through the marina's waters is an unforgettable experience.
Dubai, often referred to as the "City of Dreams", is a captivating metropolis located in the United Arab Emirates. It offers a fusion of tradition and modernity, making it a must-visit destination for travelers from around the globe.
If you're planning a journey to this city and seeking ideas for things to do, we have curated a list of the top 8 activities to ensure you have a memorable experience.
Explore the Burj Khalifa
Hey there! Your Dubai adventure just wouldn't be complete without a visit to the incredible Burj Khalifa, which happens to be the tallest building in the whole wide world! This architecture soars up to a whopping 828 meters (that's 2,717 feet), and it totally dominates the skyline.
Now, here's the cool part: You can hop on an elevator that'll take you up to the 148th floor, where you'll find the most jaw-dropping panoramic views of the destination's beautiful landscape. Seriously, it's like being on top of the world!

To make the most of your visit, be sure to check out those awesome Dubai city tour packages. They'll not only get you into Burj Khalifa but also help you skip the long lines, especially during those busy tourist seasons. Plus, you'll snag the best time slots to enjoy the experience to the fullest. Happy exploring
Dubai Marina Yacht Tour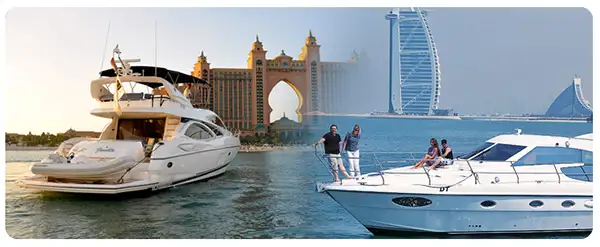 To enhance the opulence of your Dubai adventure, set sail on Dubai Marina yacht tour ." Cruise along the stunning coastline, taking in the views of the city's skyline and the Arabian Gulf.
If you opt for a private yacht charter or join a group tour, sailing through the marina's waters is an unforgettable experience. You can also enjoy activities like swimming, sunbathing, and even fishing during your yacht excursion.
Desert Safari Adventures
Escape the glitz and glamour for a day of thrilling adventures in the desert. Desert safaris are a must-do activity that allows you to experience the natural beauty and rich culture of the region.
You can choose from various options, including dune bashing in 4×4 vehicles, camel rides, sand boarding, and even traditional Arabian dinners in Bedouin-style desert camps. The golden sands of the desert provide the perfect backdrop for an unforgettable desert adventure.
Visit the Dubai Marina
Dubai Marina is a man-made canal city that showcases modern architectural brilliance. Stroll along the picturesque marina promenade lined with skyscrapers and numerous cafés and restaurants.
For a unique experience, consider taking a boat tour or a dinner cruise to view the stunning skyline as it lights up at night. It is not only a great place for sightseeing but also an ideal location for a leisurely evening out.
Dive into Aquaventure Waterpark
Situated on the Palm Jumeirah, Aquaventure Water Park is the perfect destination for those seeking fun and excitement. This water park offers a plethora of water slides, river rides, and a stunning private beach.
The star attraction is the Leap of Faith, a near-vertical waterslide that propels you through a shark-filled lagoon. It's a thrilling experience for adrenaline junkies and families alike.
"A study by Statista showed that Dubai is the world's top city for visitors. With a massive amount of more than 30 Billion USD in 2018 alone, it stands at the top."
Experience Old Dubai
Whereas the place is renowned for its modernity, it also boasts a rich history that can be explored in the historic district of Al Fahidi. Visit the Museum housed in Al Fahidi Fort, which dates back to the 18th century, and learn about the city's transformation from a small fishing village to a global hub.
Stroll through the narrow lanes of Al Bastakiya, an area known for its traditional wind-tower architecture and art galleries. Don't forget to take a traditional abra (water taxi) ride across the Creek to explore the vibrant spice and gold souks on the opposite side.
Have Fun at Ski Dubai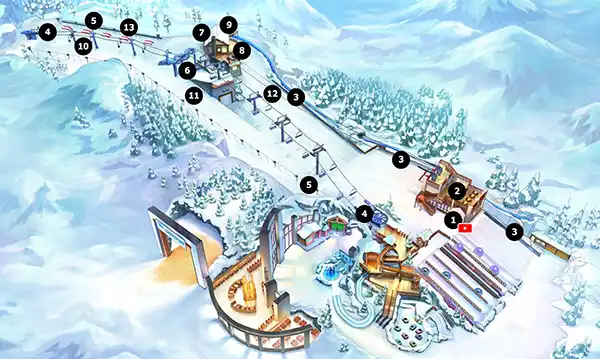 Experience the surreal by visiting Ski Dubai, an indoor ski resort located in the Mall of the Emirates. This massive facility boasts a full-sized indoor ski slope with real snow, making it a unique attraction in the middle of the desert.
If you're a seasoned skier or a novice, the place offers various activities like skiing, snowboarding, and even interactions with penguins. It's a surreal escape from the desert heat.
Enjoy Dubai's Culinary Scene
Dubai is a culinary melting pot, offering a variety of international cuisines to satisfy every palate. If you're craving authentic Emirati dishes, indulging in gourmet seafood, or exploring street food markets, the city has it all.
Don't miss the opportunity to dine at restaurants with breathtaking views, such as Pierchic, which is situated at the end of the Arabian Gulf. Moreover, you can savor dishes from around the world in the vibrant neighborhoods of Jumeirah Beach Residence (JBR) and Downtown Dubai.
---