Why Should You Join SAFe Product Owner Certification Today Itself?
The present business climate is very fast-paced and unpredictable, therefore product development and project management must be handled with greater agility and efficiency.
Scaled agile frameworks are gaining popularity among businesses of all sizes and in all sectors as a means to increase productivity, efficiency, and overall business success.
This article investigates the value of a SAFe Product Owner Certification, covering the ROI of such a credential as well as its advantages.
Understanding SAFe Product Owner Certification
It's important to get a handle on what a SAFe Product Owner Certification is all about before diving into the benefits. Scaled Agile Framework, or SAFe for short, is a comprehensive and flexible framework for implementing agile methods across a whole organization.
Individuals who earn the certification gain the ability to maximize production outputs, interact efficiently within a SAFe framework, and deliver value for their organizations.
Enhanced Career Prospects
The bright job prospects are a major incentive to consider getting your SAFe Product Owner Certification.
Companies in the present tight labor market value employees who demonstrate a mastery of agile principles and practices.
Individuals who earn this credential demonstrate their ability to traverse complicated corporate contexts, contribute to successful agile transformations, and earn a competitive advantage.
They will be more credible to prospective employers and customers thanks to this certification.
Mastery of Agile Principles
Gaining SAFe Product Owner Certification validates that you have a deep understanding of agile principles and how to put them into practice within a large-scale agile environment.
DID YOU KNOW?
After understanding the SAFe Product Owner Product Manager Certification eligibility requirements, you can enroll in a 2-day training program.

This training program will allow you to attend the live sessions and prepare for the exam. Once you clear the exam, you can claim your SAFe POPM certificate and get the designation of SAFe Product Owner/Product Manager (SAFe POPM) by Scaled Agile.
Through the use of agile methods, product ownership, and product management, it provides participants with the knowledge necessary to maximize value delivery. Prioritization, backlog management, user story generation, and maximizing customer value are just a few of the topics covered in this certification.
This mastery allows professionals to promote a culture of continuous improvement and better productivity through the implementation of agile initiatives inside their organizations.
Amplified Collaboration and Communication
Collaboration and teamwork are necessary for the success of any agile methodology. Individuals who have earned a SAFe Product Owner Certification have demonstrated their ability to promote coordination and dialogue amongst members of different disciplines, hence facilitating the free flow of information and reducing the likelihood of bottlenecks.
SAFe-trained product owners can produce clear and succinct product requirements, lead productive backlog refinement sessions, and keep stakeholders' expectations in constant alignment.
Individuals who have mastered the art of collaboration are the ones who not only drive productive product development but also help teams and stakeholders work together more effectively.
Increased Product Value and Customer Satisfaction
Companies in this era's consumer-driven industry must create products that are both valuable to customers and up to their standards. SAFe Product Owner Certification equips individuals to take a user-focused approach, allowing them to determine which product features are most important to the end user and rank them accordingly.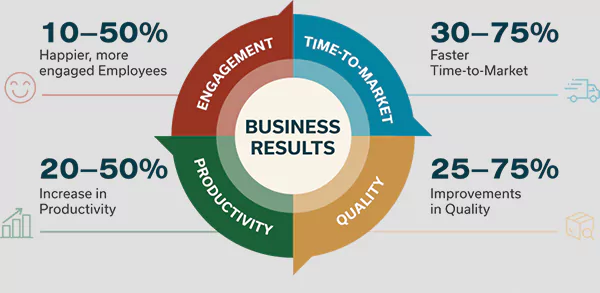 With this information in hand, people can make educated choices that have a positive impact on both product quality and consumer happiness.
This accreditation also places an emphasis on maintaining open lines of communication with customers, whose opinions and ideas are listened to and implemented into future iterations of the product.
The ROI of SAFe Agilist Certification
Although getting a professional certification requires an investment of time and money, the ROI of SAFe Agilist Certification can be substantial. Certified professionals receive a competitive advantage in the job market, enhancing their prospects of acquiring higher-paying employment or advancing to leadership positions.
DID YOU KNOW?
SAFe training certification can help product owners, be more successful at their jobs and materialize into better career growth, and recognition at work.
It's been shown that businesses that adopt agile and SAFe practices see a rise in productivity, collaboration, and satisfied customers. Training and certification are worthwhile investments because they set businesses up for future success in a dynamic market.
Conclusion
In the present era's high-speed business environment, companies need employees who can master the challenges of agile development and project management.
The benefits of becoming a certified SAFe Product Owner are extensive, including better job opportunities, a deeper understanding of agile principles, more effective teamwork, and a greater capacity to deliver value to customers.
SAFe Agilist Certification is a useful credential because of the return on investment it provides to both individuals and businesses. Adopting SAFe practices and earning this certification now can set you on a path to a prosperous and satisfying career.
---