Funimation vs Crunchyroll: Which is the Best Anime Streaming Service
Anime has gained immense global popularity, giving rise to the dilemma of selecting the best possible streaming platform for your beloved series. Among the prominent choices for anime enthusiasts are Funimation and Crunchyroll, both offering distinct attributes and an extensive range of content.
Our comprehensive analysis aims to explore the disparities between these platforms, empowering you to make an informed decision based on your specific requirements and preferences. From evaluating content libraries and pricing structures to assessing user experience and accessibility, we will address all crucial factors that should be considered when deliberating between these massive anime streaming services.
Funimation Vs Crunchyroll: An Overview
Funimation and Crunchyroll stand out as two of the most renowned streaming platforms for enjoying anime content.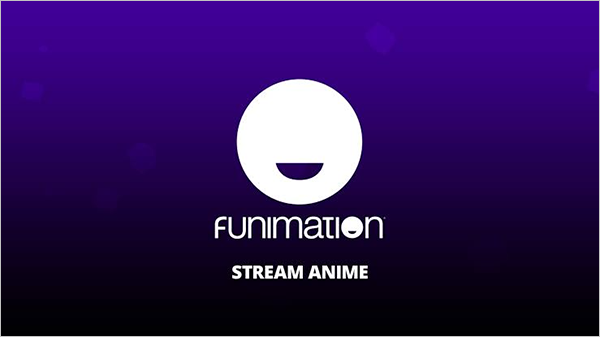 Funimation, under the ownership of Sony Pictures Television, possesses a number of anime series, including both subtitled and dubbed options. Within their vast library, which contains adored series like My Hero Academia, Attack on Titan, and Demon Slayer, English-dubbed content takes precedence.
People can choose to subscribe to one of their many plans, which start at a low cost of $5.99 per month, to gain access to the extensive library of content. It caters to audiences residing in the United States, Canada, the United Kingdom, Ireland, Australia, and New Zealand.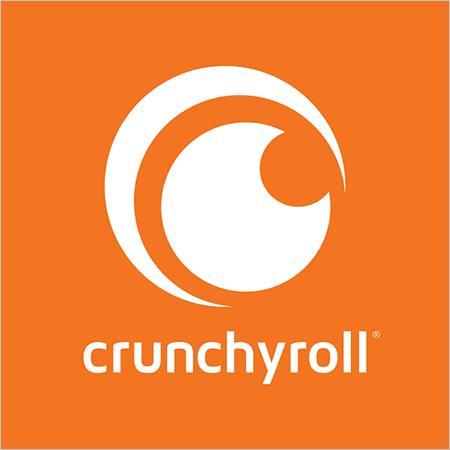 On the other hand, Crunchyroll, a WarnerMedia subsidiary, excels at providing subtitled anime content and takes great pride in having a larger library than its competitors. Within this treasury of anime, you can discover popular titles such as God of Highschool, Naruto, and Black Clover. Its highly sought-after subscription plan, referred to as Crunchyroll Premium starts at a reasonable price of $7.99 per month. The platform has an impressive global presence, serving anime enthusiasts in over 200 countries and territories.
It's important to consider a range of aspects including content, cost, user experience, and availability when choosing the best platform for your anime binge. We will delve deeper into these topics in the sections that follow so that you will have the information you need to make a wise choice.
Crunchyroll or Funimation: Which One Has Better User Interface and Experience?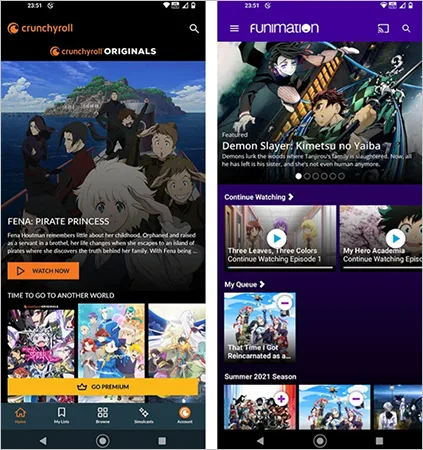 The unique characteristics of Crunchyroll contribute to its comprehensive nature as an app. Nonetheless, a notable drawback is the lack of proper organization for its numerous features. The interface appears cluttered, posing a challenge when attempting to navigate through it.
This is where Funimation distinguishes itself by offering user-friendly navigation. Additionally, Crunchyroll's features are not optimized for mobile usage, making it somewhat cumbersome to utilize on a mobile device. In contrast, Funimation is designed to be mobile-friendly.
Both platforms offer gaming options within their respective mobile apps. Furthermore, Funimation provides musical content, which can be accessed with ease due to its simple navigation.
However, in situations where navigating Crunchyroll becomes complicated, utilizing the search option and search filters can prove helpful. It is worth noting that the search option can sometimes be inefficient, and the search filters may not reliably yield results when searching for specific anime titles.
Crunchyroll does feature an alphabetical filter, but it becomes cumbersome to use given the vast database. The presence of categories like Popular, Genres, and Updated might not be as useful as expected when browsing.
On the other hand, Funimation presents categories such as Shows, Genres, Simuldub, and Popular, in addition to various genres classifications. Its sleek user interface enhances the browsing experience by ensuring a smoother journey.
Content Library
One of the significant disparities between the two streaming platforms lies in the expansive catalog provided by Crunchyroll. If you happen to have a preference for cherished classics like Cowboy Bebop, then Funimation might not align with your tastes as much.
Both Funimation and Crunchyroll provide simultaneous broadcasts of videos that debut in Japan, offering content similar to that of watchcartoon.tv. It's worth noting that there is significant overlap between these two platforms, with shows like Naruto and Bleach available on both.
Funimation has an impressive lineup of immensely popular series, including Attack on Titan, Afro Samurai, Dragon Ball, Space Dandy, Evangelion, Fullmetal Alchemist, Samurai Champloo, and numerous others. The movie collection is equally praiseworthy, featuring titles like My Hero Academia: Two Heroes, Dragon Ball Super: Broly, The Boy and the Beast, and Ghost in the Shell.
Crunchyroll's extensive library includes a wide range of classics and new releases, including Kino's Journey: The Beautiful World The Animated Series, 91 Days, Naruto Shippuden, Boruto: Naruto Next Generation, Jojo's Bizarre Adventure, Ahiru no Sora, and Hunter x Hunter. Notable films on Crunchyroll include 5 Centimeters per Second, Cardcaptor Sakura 2: The Sealed Card, K Missing Kings, and Captain Harlock: Arcadia of My Youth.
It also possesses exclusive content that can only be accessed through its catalog. Some of the beloved series in this category include Meiji Tekken: Sword & Gun, Noblesse, Onyx Equinox, and High Guardian Spice. On the other hand, Funimation holds exclusive rights to the renowned Dragon Ball series and its numerous spinoffs.
Additionally, Crunchyroll features its own original series that are fresh and exclusive to its platform, while Funimation often produces and dubs music for its content as well.
Both streaming platforms also operate online stores that provide special benefits such as collectibles, apparel, videos, and more to their users. Exclusive members-only events are also available for users to enjoy. Moreover, Funimation and Crunchyroll each offer an extensive library of games tailored for iOS and Android devices.
Also read: Moon Knight Season 2 Release Date – Will There Be A Season 2 of Moon Knight?
Simulcasts, Subtitles and Dubbed Content
Simulcasts hold great significance in anime streaming platforms since they enable users to promptly access new episodes of ongoing shows shortly after their release in Japan. Both of these platforms provide simulcast services, each with its unique characteristics. Here is a comparison of simulcasts for Funimation Vs Crunchyroll:
Funimation caters to both subtitled and dubbed episodes, depending on the specific show. They strive to deliver dubbed episodes as quickly as possible, often within a couple of weeks after the original airing. However, the availability of dubbed simulcasts may vary based on licensing agreements and production schedules.
In contrast, Crunchyroll's main focus lies in providing subtitled simulcasts, guaranteeing immediate access to new episodes of ongoing anime series within an hour of their original airing in Japan. This aspect highlights this streaming platform as an outstanding choice for people who value being updated with their beloved shows, with no interruptions.
To sum it up, if you have a liking for English-dubbed anime and are open to waiting for fresh episodes, Funimation's simulcast selections might be more suitable for you. Nevertheless, if you take pleasure in watching subtitled anime and desire to keep pace with the newest episodes as they are aired in Japan, Crunchyroll's simulcast services are a perfect choice.
Device Compatibility
Both streaming platforms can be accessed across multiple platforms, but Funimation has fewer options compared to Crunchyroll. Let's take a closer look at the device compatibility of both platforms for a detailed comparison of Crunchyroll Vs Funimation.
| | |
| --- | --- |
| Crunchyroll | Funimation |
| Android devices | Android devices |
| Apple TV | Apple TV |
| Amazon Fire TV | Amazon Fire TV |
| Google Chromecast | Google Chromecast |
| iOS devices | iOS devices |
| PlayStation 3 | PlayStation 3 |
| PlayStation 4 | PlayStation 4 |
| PlayStation Vita | PlayStation Vita |
| Xbox 360 | Xbox 360 |
| Xbox One | Xbox One |
| Roku | Roku |
| Web browsers | Google Chromecast |
| Wii U | Smart TVs |
| Windows Phone | |
Crunchyroll Vs Funimation: Pricing
When considering Crunchyroll Vs Funimation, it's essential to take pricing into account. Both platforms provide various subscription plans to suit different user preferences. Here's a breakdown of their pricing structures:
Funimation Pricing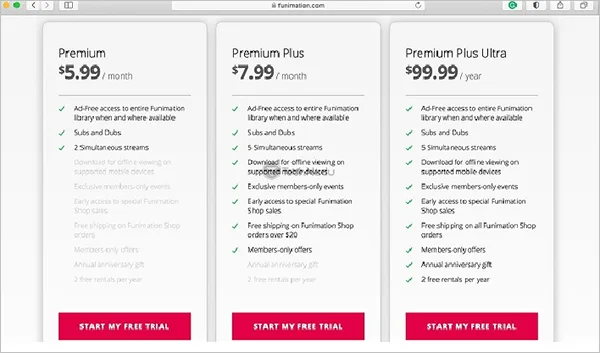 Funimation presents three subscription plans:
1. Premium ($5.99/month): This plan grants ad-free access to the complete Funimation library, including both subtitled and dubbed content. It allows simultaneous streaming on two devices.
2. Premium Plus ($7.99/month): Alongside the benefits of the Premium plan, Premium Plus enables streaming on up to five devices simultaneously and offers exclusive access to members-only events and deals.
3. Premium Plus Ultra ($99.99/year): This annual plan encompasses all the perks of Premium Plus, as well as free shipping on orders above $20 from the Funimation Shop, two free rentals annually, and an anniversary gift.
Crunchyroll Pricing
Crunchyroll offers two primary subscription plans:
1. Crunchyroll Premium (Fan – $7.99/month): This plan provides ad-free access to Crunchyroll's extensive library of anime, manga, and drama titles, including simulcasts of the latest episodes. It permits streaming on up to four devices simultaneously.
2. Crunchyroll Premium+ (Mega Fan – ($9.99/month): In addition to the benefits of the Premium plan, Premium+ subscribers gain access to exclusive events, contests, offers, and priority customer support.
Both platforms also provide a free, ad-supported viewing option with limited access to their content libraries.
To summarize, Funimation offers a lower starting monthly rate, making it more budget-friendly for individuals seeking access to both subtitled and dubbed content. Crunchyroll hosts a larger content library and quicker access to simulcasts, which could justify the slightly higher price for certain users.
Funimation Vs Crunchyroll: Which Is Better?
When it comes to selecting between two popular anime streaming services, Crunchyroll stands out as the preferred choice in 2023.
Previously, the decisions were often made on personal preferences, whether you valued a wide range of anime with subtitles or a more limited selection primarily available in English dub.
However, we are now witnessing a shift in the anime landscape, where one streaming service will include all the remarkable features. This convergence means fewer dilemmas when it comes to choosing favorite titles, but it also reduces the competitive rivalry between the platforms.
Crunchyroll's extensive library and its commitment to preserving the authenticity of the original Japanese audio have already attracted many users, even prior to any merger.
Nonetheless, it's important to note that Funimation's future remains uncertain, and there is a possibility of its closure. Consequently, more users are expected to transition towards Crunchyroll.
Please note that the exact timeframe for the entire merger remains undisclosed. Prior to deleting your Funimation account, we recommend confirming the availability of your preferred anime titles on Crunchyroll, as there may have been a transfer of content.
Frequently Asked Questions (FAQs)
Ans: The monthly subscription for Crunchyroll Premium is priced at $7.99, granting users ad-free access to their extensive collection of anime, manga, and drama titles. It also provides simulcasts of the latest episodes. For additional benefits like exclusive events, contests, offers, and priority customer support, users can opt for the Crunchyroll Premium+ plan, available at $9.99 per month.
Ans: Determining whether Funimation is better than Crunchyroll is subjective and depends on individual preferences. Funimation offers a better experience for English-speaking audiences, while Crunchyroll excels in providing content with subtitles or manga for those who can enjoy it in different languages.
Ans: Funimation's free plan includes a significant number of advertisements in each video. However, users have the choice to upgrade to premium or premium-plus subscriptions to enjoy uninterrupted streaming without ads.
Ans: When it comes to subtitles, there are noticeable distinctions between Funimation and Crunchyroll. Funimation uses closed captions featuring white text on a black background, which cannot be disabled within the app. While Crunchyroll's subtitles are less annoying, displaying as pure white text with a black font outline. 
Ans: Regarding content, Crunchyroll offers a broader selection compared to Funimation. Crunchyroll has anime, TV shows, movies, and originals, while Funimation focuses solely on anime. Additionally, Crunchyroll's extensive library, including simuldubs, contributes to its vast collection of content.
Sources:
Read more: