What Happened to newTumbl? The Rise & Fall of newTumbl
newTumbl is a blogging website that started in 2019 as another option for Tumblr. In 2018, Tumblr blocked adult content, causing many people to leave the platform. newTumbl was made to be a more free platform where users could share anything they liked without worrying about it being removed.
However, right now, the website isn't working, and several users can't get on the website. This article will look into what happened to newTumbl, is newTumbl shut down, how it affected the community that shares not-safe-for-work content, and what might happen to this type of content online.
Let's go!
What was newTumbl?
newTumbl was quite similar to Tumblr in many ways. People could make their own blogs, share text, pictures, and videos, and also follow others. However, it had fewer rules about what people could post compared to Tumblr. People could share NSFW content, which included explicit pictures and videos.
At its heart, the new Tumbl encouraged imagination, supported interactions between users, and had a simple layout. It didn't matter if you were an artist, photographer, writer, or just someone full of creativity; the new Tumblr was a friendly place to display your creations.
It started in January 2019 and became popular among users who wanted a different platform for sharing adult content. But the website struggled to get companies to advertise on it, and it couldn't make enough money to cover its expenses.
What Happened to newTumbl?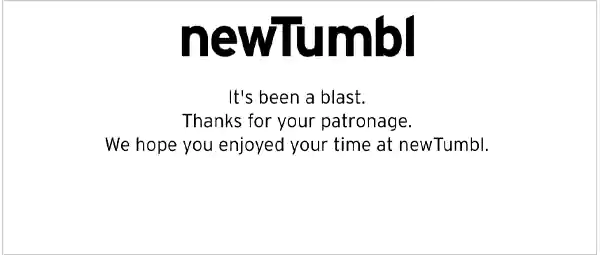 Without much warning, the website newTumbl.com seems to have disappeared. For those who might not know, newTumbl was one of the sites that popped up after Tumblr decided to ban all nudity and adult content. This move upset a lot of Tumblr users who were mostly interested in that kind of content.
Even though many people thought Tumblr would suffer and lose users due to this decision (they did lose quite a few users at the beginning), the site managed to stay alive. However, the replacement that seemed like the next big thing in adult social media, newTumbl, didn't survive.
It's worth mentioning that Tumblr's survival might be thanks to the fact that they changed their content rules to allow nudity again, just not explicit sexual content. They draw the line at content involving obvious sexual acts.
On the other hand, newTumbl apparently started removing posts and banning users more frequently. They did this for various reasons, some for breaking their content rules, and some for reasons that didn't really break any rules, but the content moderators just didn't like.
People have come up with a few ideas about why newTumbl shut down, but there's no official explanation yet. Given the sudden shutdown, I'm not very confident that we'll get an explanation anytime soon.
Suggested read: How to Get Rid of Character AI NSFW Filter Effectively?
What Happened to newTumbl? The Rise & Fall of newTumbl
The reasons behind the lack of success for newTumbl are complicated and not officially disclosed. However, there exist several elements that likely contributed to its downfall.
Competition: newTumbl encountered tough competition from other platforms dedicated to blogging, like Twitter, Instagram, and Medium. These platforms had already gained a strong foothold and possessed substantial user communities.
Technical complications: It encountered multiple technical glitches, including periods of unavailability and delays. These issues created obstacles for users, possibly deterring them from enrolling.
Insufficient funding: newTumbl started as a new business venture and did not enjoy the same financial backing as its competitors. This might have curtailed its capacity to introduce fresh features and draw in users.
In the end, the new Tumblr couldn't surmount these obstacles and was compelled to cease operations. Its lack of success underscores the difficulties that new Tumblr blogging platforms encounter in an increasingly competitive domain.
The Impact of newTumbl Shut Down
The closing down of newTumbl had a big impact on the community that shares adult content. Many people who used this platform to post their content couldn't do so anymore, and it became harder for others to find and share similar content. The effects of newTumbl shutting down are:
No place for creators and viewers: People who made or enjoyed adult content used newTumbl a lot. But when it closed, creators couldn't share their work, and viewers couldn't find the content they liked.
Trouble finding and sharing adult content: With newTumbl gone, it became tricky for folks to find and share adult content. People who used to post on the platform had to find other websites, which was both time-consuming and frustrating.
Impact on the adult content business: The adult content industry is worth a lot of money, and the closure of this website really affected it. Many creators and businesses relied on newTumbl to connect with their audience. They had to figure out new ways to do that.
Problems for new websites: The newTumbl shutdown also showed how hard it is to make a successful adult content website. It's tough for these websites to make money because advertisers don't usually want to advertise on platforms with adult content.
Even with these challenges, there are still some other websites for NSFW content. We'll discuss them in the next part of this article.
Suggested read: Top 15 Best LuckyCrush Alternatives in 2023
Is There Any newTumbl Alternative in 2023
There is no doubt that newTumbl Alternative was the perfect website, but due to its sudden shutdown, many sites came to light, as they got the perfect chance to grab the newTumbl users hence here are the top 9 alternatives that might give the same features and specifications as newTumbl.
For more alternatives, check out the 10 best Tumblr Alternatives list.
Factors to Consider While Choosing a newTumbl Alternative
Here are things to think about when picking an alternative to newTumbl:
What you want to share: Different platforms work better for different stuff. If you're into sharing pictures and videos, you'll need a platform that lets you do that.
Desired functionalities: Reflect upon the aspects that hold significance for you, such as creating personal blogs with restricted access, overseeing comments, and establishing custom regulations.
Cost: Some platforms are free, while others ask for a monthly fee.
The community: Check how many people use the platform and how active they are. It's nice to join a place where folks are into the same things you are.
Rules about NSFW content: Some platforms are stricter about certain kinds of content. Make sure you know the rules before you start using it.
Suggested read: What is an Incorrect Quote Generator? Best Incorrect Quote Generator Websites in 2023
Final Thoughts
The closure of newTumbl had a significant impact on the NSFW content community. Nevertheless, various options remain accessible for both content creators and consumers.
In the end, the most effective approach to selecting an alternative to newTumbl is to experiment with several platforms and determine your preference. I trust that this information has been helpful to you.
---
Sources