What is an Incorrect Quote Generator? Best Incorrect Quote Generator Websites in 2023
Discover the world of Incorrect quote generators. These fun and imaginative tools aim to tickle your sense of humor and transport you to a world of laughter and entertainment.
By crafting fictional and absurd remarks attributed to beloved characters or well-known personalities, these quote generators ingeniously generate hilarious lines that will brighten your day.
With the advent of the internet, these clever generators have become easily accessible to all, offering boundless fun for those in search of inspiration or simply a touch of randomness in their daily routine. So, in this article, we will cover everything you need to know about Incorrect quotes generators.
What is an Incorrect Quote Generator?
An incorrect quote generator is a kind of website that allows you to generate fake conversations with your friends. These generator quotes create fictional discussions involving one or more individuals. They are primarily used for humorous and comedic purposes, such as pranks, posting on websites, or developing comedy scripts.
To generate these fake conversations, a chatbot is used by these random quotes generators. The chatbot is trained to generate funny dialogue and interactions among multiple characters.
How Does it Work?
Incorrect quotes generator are a fun and surprising tool that works by using special algorithms or language models to mix together names, phrases, and words.
It starts with a big collection of famous quotes or sayings and a list of well-known people or fictional characters. Then, it breaks down this information into smaller parts, which can be changed and combined in fresh ways.
By using language models, the random quote generator puts these parts back together to create new quotes that are funny and enjoyable. People can explore, save, mix, or share these lines to bring laughter and unpredictability into their days.
How to Use Incorrect Quotes Generator Tool?
Here are the basic steps to use any Incorrect quotes generator:
Step 1: First of all, you need to decide on the number of characters you want to include in your prompt.
Step 2: Choose the type of content you want to generate, such as quotes, conversations, or prompts. You can also specify if it should be suitable for all audiences (SFW) or contain explicit content (Incorrect quotes generator NSFW). Additionally, you can choose between "Ship" or "Unshipped".
Step 3: Click the "Generate" button to create a random incorrect quote or conversation based on your chosen parameters.
Step 3: You can generate as many quotes as you like since the tool's database contains a wide variety of incorrect prompts. They regularly update and expand this database to provide more options for you.
Read more: How to Stream REELZ and Watch ON Patrol: Live Without Cable?
What is the Use of Incorrect Quotes?
Random quote generators serve various purposes and offer a wide range of benefits. They have become quite popular due to their versatility and usefulness in several areas. Here are some common applications of these unique tools:
1. Entertainment and humor: Incorrect quotes generators are designed to generate fictional and funny dialogues or conversations. They provide an enjoyable source of entertainment, bringing laughter to users.
2. Creative content ideas and inspiration: These tools can be helpful in generating content ideas for memes, jokes, or anime quotes. They assist users in creating engaging and comical material for personal or professional projects.
3. Generating unique quotes: Quote generators allow users to create distinctive quotes or fictional dialogues. They provide a fresh and original perspective, enabling individuals to express themselves uniquely.
Read more: What Is Peacock TV and What Does it Do?
Top 5 Incorrect Quotes Generator Website
If you're searching for a tool to generate funny and creative quotes, there are several great options available. These Incorrect quotes generator websites can help you generate jokes and create conversations between fictional characters.
IncorrectQuotesGenerator.Com
One of the most popular online tools for generating incorrect quotes is incorrectquotesgenerator.com. This website allows you to select quotes from up to six fictional characters.
The quotes generated by this tool are hilarious and clever, making them perfect for humorous creative writing or even as a source of meme-worthy content. You can use these funny quotes in various contexts. Additionally, this tool has a responsive design and includes a convenient "Copy to Clipboard" feature, which is very useful for users.
TechnMind Incorrect Quote Generator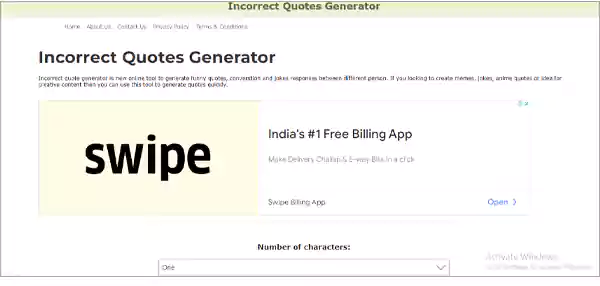 This tool helps people generate incorrect quotes and jokes for their conversations. The lines produced by this tool are well-written and to the point. They are great for sharing with colleagues and friends to liven up conversations and have some fun. You can confidently send these generator quotes to others without hesitation. The website is also well-designed and works well on different devices.
ScatterPlatter Incorrect Quote Generator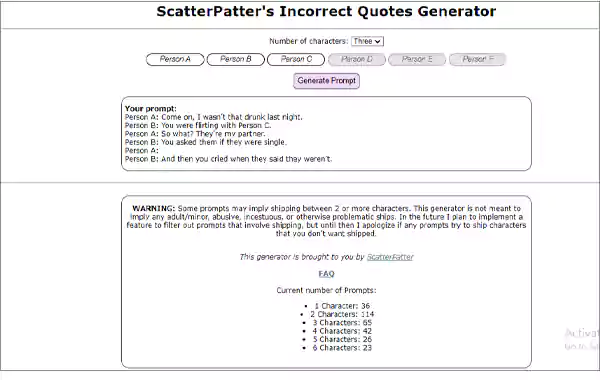 Our third choice is the Incorrect Quotes Generator By ScatterPlatter, which is highly popular on social media. People enjoy sharing screenshots of the quotes they create with this tool.
However, there are a few drawbacks to using this tool. It is not responsive on mobile devices and other devices, which may not be suitable for every user. Additionally, it lacks a "Copy to Clipboard" feature, making it inconvenient for users who want to quickly copy the quotes.
Perchance Incorrect Quote Generator
This tool may not be suitable for everyone, as it produces rather conventional quotes. The previously mentioned tools generate better and more intellectual quotes. However, if Incorrect quote generators looking for a basic random quote generator for your desktop, this tool might be a good fit. It's important to note that it is not mobile-friendly and also lacks the "Copy to Clipboard" feature.
Code Beautify Incorrect Quotes Generator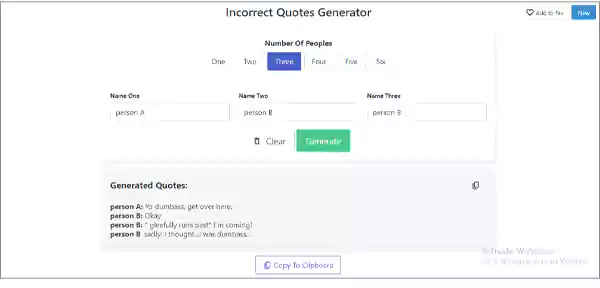 The incorrect quote generator by Code Beautify is a newcomer in the field. This comprehensive tool provides quick results that can be easily shared and enjoyed on social media. It features a user-friendly interface where you can effortlessly select the number of characters and copy the quotes for sharing with others.
You can also create fictional conversations with your friends and add some humor to spice things up. Most importantly, it has a useful "Copy to Clipboard" feature.
Conclusion
If you're seeking some fun or inspiration, an incorrect quote generator can provide you with amusing, thought-provoking, or surprising quotes. There are many random quote generators available that offer a delightful blend of humor and randomness to add some joy to your day. You can choose to use any of them as per your preference.
DISCLAIMER: Remember that the quotes produced by these tools are entirely fictional. They should not be regarded as serious or associated with real individuals or characters they may resemble. These quotes are purely for entertainment purposes and should not be mistaken as original statements.
Read next: