Roku Express vs. Roku Streaming Stick: Which One is Right for You?
Smart TVs have revolutionized our entertainment experiences, allowing individuals to effortlessly stream their beloved television shows and movies, watch interesting YouTube videos, and enjoy melodious tunes.
However, the journey to this digital revolution was not immediate. It was Roku that paved the way, turning the concept of streaming into a tangible reality in 2008. But which Roku device suits you best? The comparison of Roku Express vs Roku Stick sheds light on the two most budget-friendly Roku models. Is there a clear winner between the two?
Let's analyze and differentiate the Roku Express vs Roku Streaming Stick, focusing on their distinctive features. Is one device more expensive than the other? Does one offer superior functionalities?
In our comprehensive comparison of the Roku Stick vs Express, we will address these questions to help you make an informed decision.
Roku Express vs Roku Stick: An Overview
When discussing streaming devices, it is worth mentioning Roku as a well-known brand that offers a range of choices for consumers and caters to many top online streaming platforms. Among these options, the Roku Express and the Roku Stick have gained popularity. Although both devices serve the main function of streaming content, they cater to distinct user preferences and requirements. In this Roku Stick vs Express overview, we will provide a brief overview of each device to give you a clear understanding of what they have to offer.
The Roku Express serves as an introductory streaming device targeted at individuals new to streaming or seeking an affordable alternative. It presents a straightforward setup procedure and user-friendly interface, making it the ideal option for those desiring a seamless streaming encounter. Despite its cost-effective price, the Roku Express grants access to an extensive range of streaming channels and content.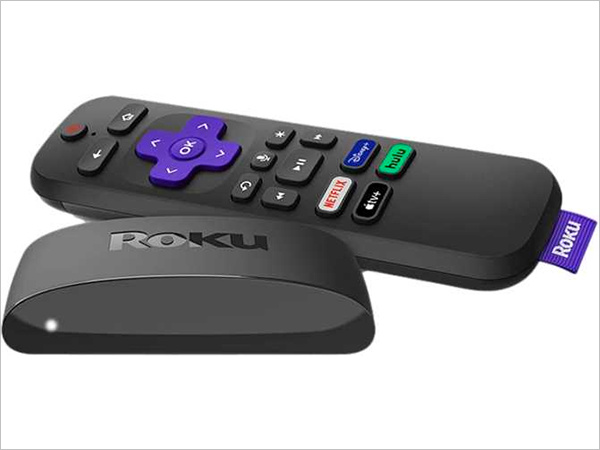 On the other hand, the Roku Streaming Stick stands as a sophisticated and feature-packed streaming device in contrast to the Roku Express. Boasting a compact design and enhanced performance, it caters to users desiring a more robust and adaptable streaming experience. Additionally, the Streaming Stick incorporates a voice remote, empowering users to utilize voice commands for content search, playback control, and more.
When considering your streaming options (Roku Express vs Stick), it's important to evaluate your individual requirements, financial considerations, and personal preferences. In this regard, both the Express and Streaming Stick offer commendable features. By looking deeper into their shared attributes as well as differences, you can gain valuable insights to aid your decision-making process.
Read more: How to Connect an Android Phone to Roku TV?
Roku Stick vs Express: Features
Let's explore the distinguishing features of these devices across several key categories. We'll delve into the device hardware, form factors, and remote controls.
Device Hardware
In terms of hardware, the Streaming Stick stands out as a superior choice in this comparison of Roku Streaming Stick vs Express. It possesses a quad-core processor, which sets it apart from other streaming sticks without this feature, providing more power.
Both devices provide wireless connectivity with support for 802.11 (b/g/n) standards. However, it's important to note that neither of these devices supports 4K video playback. To access that capability, one should consider models like Premiere, Premiere+, or Ultra. Both of the devices being discussed here are limited to a resolution of 1080p.
Regarding streaming performance, we have not observed significant differences between the two devices. Nevertheless, the Roku Stick emerges as the more resilient and capable option overall.
Form Factor
Both devices are exceptionally compact. While the Roku Express may be perceived as more visually appealing, this is largely a subjective matter. It should be noted that the Roku Streaming Stick has been ingeniously designed to maintain an almost unnoticeable presence when positioned towards your TV, seamlessly connecting via an HDMI port. Consequently, one would have to inspect the rear of the TV to detect its presence.
But it's worth noting that the Roku Express needs to be visible from your viewing position due to its remote control. The Express can be placed on your entertainment center or affixed to the side or top of your TV using the included double-stick adhesive strip. It's not an eyesore by any means, but it's naturally more noticeable compared to the discreet Roku Streaming Stick.
The Roku Stick has a slight advantage in terms of portability, which is another factor to take into account. There is no need for a second cord because it plugs directly into the HDMI port.
Remote Controls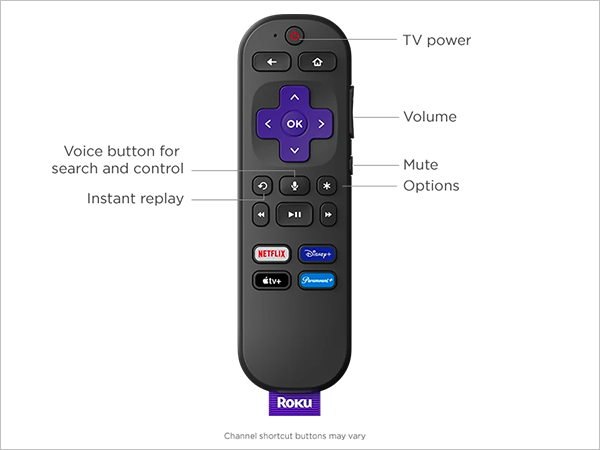 One distinction between the Roku Streaming Stick vs Express lies in their respective remote controls. Although the remotes appear similar, the Streaming Stick's remote is a "point anywhere" remote. This means you can control the device without having to aim the remote directly at it. This is particularly useful since the Streaming Stick is intended to remain concealed behind your TV.
In contrast, the Roku Express requires direct aiming of the remote at the device. While this may seem like a minor detail, it can be a bit bothersome if you're accustomed to the convenience of a point-anywhere remote.
Aside from this distinction, both remotes are largely similar. They both feature headphone jacks for private listening and include shortcut buttons for popular streaming services.
Roku Stick vs Roku Express: Pricing
Pricing plays a really important role in the comparison of Roku Stick vs Express. The Roku Express, released in September 2016 as part of Roku's fifth-generation devices, is currently priced at $29.99. However, this basic version does not support 4K, HDR, or Dolby Vision-enabled streaming. Conversely, the Express 4K Plus offers full 2160p streaming capabilities but at a slightly higher cost of $39.99. The $10 price difference is relatively minor, especially compared to the more expensive Roku models in the high-end product line.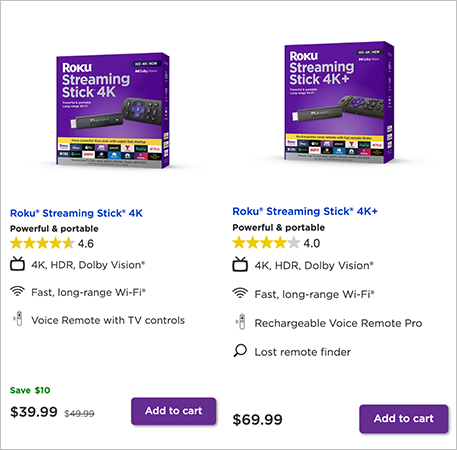 Now, let's talk about the latest Streaming Stick from Roku, which is available for $49.99, while the Streaming Stick 4K Plus is priced at $69.99. This represents almost twice the price of the Express 4K Plus. However, the additional cost brings significant enhancements, such as a Rechargeable Voice Remote Pro with a convenient lost remote finder, faster connectivity, and a smarter interface. Even with its higher price, the Streaming Stick 4K is still more affordable than the Roku Ultra and Roku Streambar/Streambar Pro.
Read more: What Is Peacock TV and What Does it Do?
Roku Express vs. Roku Streaming Stick: Similarities and Differences
In this section of the Roku Express vs Streaming Stick comparison, we will quickly highlight the similarities and differences between both devices.
Similarities
Content: Both the Roku Express and Roku Streaming Stick provide access to numerous streaming channels, guaranteeing an abundance of content for your viewing pleasure.
Ease of Use: Both devices offer a simple setup process and a user-friendly interface, ensuring accessibility for users of any skill level.
Differences:
Affordability: The Roku Express provides a cost-effective solution, appealing to users on a budget.
Performance: The Streaming Stick delivers enhanced processing power, ensuring a seamless streaming experience in comparison to the Roku Express.
Portability: With its compact form factor, the Roku Stick offers superior portability when compared to the Roku Express.
Voice Control: Exclusive to Roku's Stick, the inclusion of a voice remote enables convenient voice-controlled functionality that is absent in the Roku Express.
Roku Express vs. Roku Stick: A Comparison
Release Date
September 2016
January 2012
Current Generation
Ninth Generation
Tenth Generation
Available Versions
Roku Express
Roku Express 4K Plus
Streaming Stick 4K
Streaming Stick 4K Plus
Price
$29.99-$39.99
$49.99-$69.99
Form Factor
Streaming box
HDMI dongle
4K Enabled?
Yes (Express 4K Plus)No (Express)
Yes (Streaming Stick 4K and 4K Plus)
Pros and Cons of Roku Express vs Stick
The benefits and drawbacks of Roku Stick vs Express are as follows:
Roku Express
Pros
Cons
Even at its highest price, Express is still less expensive than every other Roku item.
Not every Roku Express model supports 4K or HDR.
Less expensive than an Apple TV.
Remote work requires that the streaming box be visible.
No charging is necessary for the remote.
Fewer features compared to the Stick or other more expensive Roku devices.
Allows for voice control.
Dolby Vision is not supported on any Express models.
Roku Stick
Pros
Cons
More subtle than the Express.
Pricey compared to the Express's two models.
Both Stick models support streaming in 4K, HDR, and Dolby Vision.
It needs to be connected to the wall still.
Less expensive than the Streambar/Streambar Pro and the Roku Ultra.
If you already own a Roku smart TV, it is essentially useless.
Still less expensive than an Apple TV.
The remote control must be charged.
Final Thoughts
The Roku Express and the Streaming Stick offer a seamless smart TV experience on both HD and 4K televisions, even if they lack built-in smart features. This is a significant advantage for budget-conscious TV enthusiasts.
By utilizing an unused HDMI port and an extra wall outlet, you can conveniently access top-notch streaming content on your television without raising any suspicions. After comparing all the aspects of Roku Streaming Stick vs Express, the Roku Stick stands out as the preferred selection due to its affordability and functionality, ensuring a seamless streaming experience.
In addition to its superior functionality, the Streaming Stick boasts a subtle design and a lower price point compared to the Roku Ultra and Roku Streambars. On the other hand, the Express falls short with its lack of Dolby Vision support, and only the 4K Plus model provides 4K HDR capabilities.
Now you are aware of all the information one needs about Roku Express vs Streaming Stick. I hope you found this article useful in making an informed decision.
Sources:
Read next: