How to Cast to Roku TV from Android Seamlessly? Roku TV Screen Mirroring Tutorial
Roku gained more popularity as people started enjoying more content here on mobiles or TVs. Also, it is pretty challenging to watch something on a small screen, so a big TV screen can be a savior. And, if you know how to connect phone to Roku TV, it will help you start streaming the content quickly on it.
Connecting a few cables smartly can be helpful, but it is important for you to know the right steps to cast from Android to Roku. The Windows PC and Android devices have access to the Miracast protocol, allowing screen mirroring. Thus, it allows you to mirror your laptop/PC to a TV.
In this article, we will learn how to connect phone to Roku, learn its advantages, and other ways to stream Android to Roku.
Also Read: Syfy.com Activate/activatenbcu on Roku, Amazon, Apple [Updated]
What are the Differences Between Mirroring and Casting? 
Although casting Android to Roku and mirroring from an Android device on Roku does sound the same, here are a few differences to differentiate between them. 
Let's understand those for better clarity:- 
| | | |
| --- | --- | --- |
| Basis of Difference | Casting Android to Roku | Mirroring Android to Roku |
| Content Access | Only from the app involved in the cast. | From all the applications present in the phone. |
| What can be watched | Only a particular playback of a particular piece of content is accessible. | Access the entire screen. |
| Controlling Playback | Mobile and remote both can be used. | Only mobile can be used. |
| Power State | The phone is not required to be powered. | The phone is required to be powered in. |
| Devices Support | Supports iOS and Android devices. | Restricted to only a few. |
How to Cast From Android to Roku TV?
To begin to cast from Android to Roku, you need to establish a connection. The only prerequisite required to cast to Roku from Android is to enable the option on your tablets or smartphones before connecting to Roku.
On many devices, it works automatically, but here, you need to enable the feature manually. Besides this, keep your devices updated & keep them on the same network to ensure smooth streaming. You can implement a few steps for casting to Roku TV from Android.
Open a Roku app. Go to the video content you want to cast. Now, tap on the casting icon of the application.
If you own more than one Roku TV or device on your network, you now need to pick the one with which you want to cast.
The Roku app will start casting from your mobile app to the Roku TV.
Note:- Most of the Roku models do support casting, but Roku Express+ 3710 and Roku Express 3700, don't. Besides this, Roku Express Models 3900 & 3930 and Roku Express+ models 3910 & 3931 support the screen mirroring feature, whereas model number 3910 supports the mirroring feature on the HDMI output only. Amongst Androids, if it is 4.42 model or above it will support casting, otherwise it won't.
These are the steps you can implement to act seamlessly. 
How to Screen Mirror on Roku TV With Android Using Various Methods?
To start screen mirroring from Android to Roku, it is very important first to ensure that an Android device or tablet allows cast to Roku. If you have Android 4 or higher than this, you can do mirroring without the help of any third-party applications. There are various ways to do mirroring.
By using the Roku app
With third-party applications
With the help of a USB
With the help of HDMI Cable
Using a wireless adaptor
Using a streaming stick
How to Mirror Android to Roku Free Using the Roku app? 

It is one of the easiest ways to do screen mirroring on Roku TV. You need to log in through your Roku account to the Roku app and follow the instructions explained below.
Connect it to the Roku TV on the same network as the Android.
Select the "media" option.
Use your phone as a remote and stream the contents smoothly.
How to Mirror & Cast Android to Roku With Third-Party Applications?
Sometimes, your Android does not allow you to directly mirror or cast streaming the contents of your device to the Roku TV. This may land you in a dilemma about how to mirror Android to Roku TV using third-party applications.
Several apps can assist you in streaming Roku from Android with these third-party applications. Here are the top 5 to help you start screen mirroring and casting.
Screen Mirroring
Search for and install Screen Mirroring from the Google Play Store and allow the necessary permissions from your device to operate it on your device. After that, follow the methods to mirror stream Android to Roku.
Select the "Screen Mirroring" option from your application on your device.
Bypass any ads displayed and click on the "Start Now" option.
Once you have selected the "Start Now" option, you can enjoy screen mirroring to your Roku TV.
AirdroidCast
Another third-party application that helps you cast content very easily. Begin your journey by installing it via the Google Play Store on your Android device. Follow the instructions explained below to begin the cast using this.
Open the Airdroid Cast app. 
Visit webcast.airdroid.com from your Roku device.
Scan the code from your Android, and you are ready.
AirBeamTv
If you want to know how to mirror Android to Roku free, AirbeamTv is a great solution. Install the app from the Google Play Store and launch it on your Android. Now, follow the steps discussed below;
Select the Roku device on which you want to start casting or mirroring.
Follow by choosing, START MIRRORING>> Select Device's Name>> Start Broadcast.
The Broadcast will begin automatically.
Apowermirror
This allows quick mirroring of your Android devices to Roku TV. Download the applications to your device to begin streaming Android to Roku.
Connect both Android devices and Roku devices on the same network to avoid any glitches.
Choose "Roku TV," and select the specifications to begin.
Your screen mirroring will begin shortly.
IMyFone MirrorTo
Imyphone MirrorTo is one of the best third-party apps that supports Roku Screen Mirroring. After installing the application, start with the steps discussed below:
Connect your Android to a network with which your Roku device is connected.
Enter the credentials of Roku after selecting the Roku app
Confirm it if required, and enjoy the seamless mirroring.
Also Read: How to Activate Univision on a New Device? 2023- Step by Step
Mirror Stream Android to Roku With a Streaming Stick 
The Roku streamer is a great pick to execute this method. Simply insert the stick into the HDMI port and connect the phone to the same network. Select to cast from the streaming app through your phone to start mirroring on Roku TV.
Mirror Stream Android to Roku TV Using an HDMI Cable 
If you want to stream Android to Roku TV without any internet connection, an HDMI cable is a reliable option. Simply use an HDMI cable to connect your Android device and Roku TV. Switch the input of your TV to the HDMI port you have connected to it. It will start mirroring your phone to Roku TV.
How to Mirror Android to Roku Using a USB?
USB is also a safe option for connecting your Roku TV to the Roku device. But here comes a question: How to connect phone to Roku TV with USB? It is very simple; just insert the cable into the port that is compatible with your USB. Now, connect it to the TV via the Roku device. Follow these steps after that.
From your Android, go to the smart view in settings.
From the smart view menu, select the device preference and specifications.
Select the screen mirroring from Roku TV and enjoy.
This is the quickest way to mirror using a USB!
Mirror Stream Android to Roku With The Wireless Adapter 
Google Chromecast and Microsoft wireless display adapter allow screen mirroring very quickly. So, to know how to mirror Android to Roku free. A wireless adapter allows you to do that as well. Simply connect the adapter to the HDMI port of your TV with the help of Wi-Fi. Once it is successfully done, you will be able to enjoy your screen mirroring to your Roku TV. 
How to Mirror Android to Roku in Simple Steps?
The mirroring process gets complicated when multiple sub-steps are involved. So, to initiate Roku screen mirroring on Android, follow these simple steps.
Make sure your device supports screen mirroring. For that, Go to SETTINGS >> SYSTEMS >> ABOUT. If your device supports a screen mirror on Roku, you can move on with the consecutive steps; if not, you need to find alternative methods like using third-party apps to do it. Besides this, mirroring opens the possibility to access more content to enhance your experience.
If you are trying something new on your Roku for the first time or need a straightforward solution, follow the instructions explained below;
Step-1 Navigate to the Settings menu.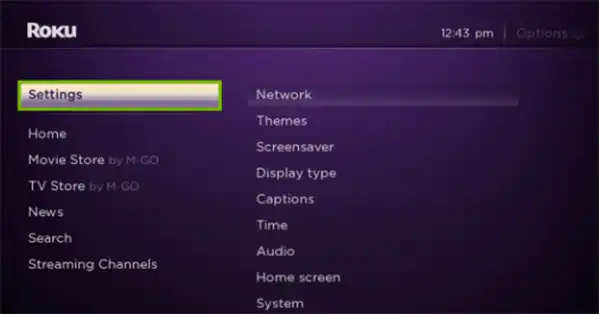 Tip: If you are doing it the first time, locate the "Settings" menu from "Home."
Step 2 Select the system option. You will see there are a lot of options to try in this system sub-menu, such as audio, videos, etc.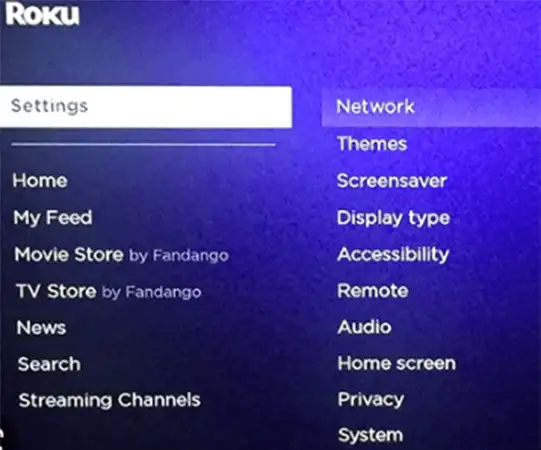 Step-3 Try to access the screen mirroring option on the right side.

Step-4 Select the screen mirroring setting you are comfortable with. Suppose you are streaming with Android; choose the preferences accordingly:
Prompt option- It will send you a notification every time a mirroring attempt is done.
Always allow options- It will open your access to all.
Never allow option- It prevents you from accessing this feature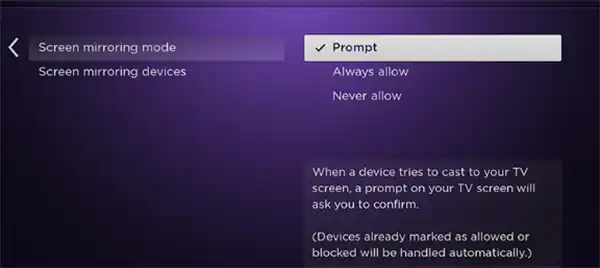 Step-5 To know, How do I connect my phone to my Roku TV? Jump to the menu that allows screen mirroring. Tap on mirroring.

Step-6 **(Optional)** Allow the screen mirroring request. (If displayed)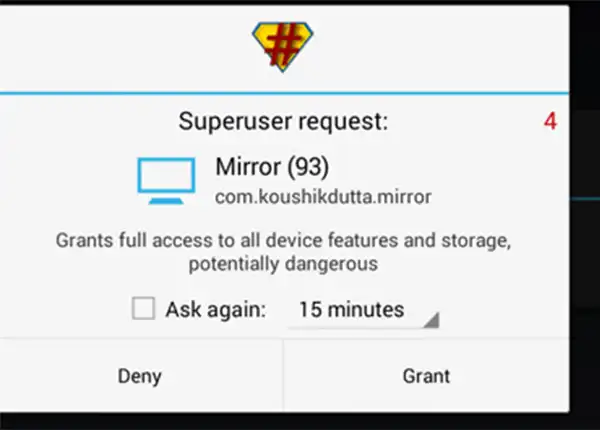 Step-7 Normally, use your device.
These were the steps to begin your screen mirroring quickly……
NOTE: There may be resolution issues while mirroring your Android content to Roku TV. Even though you can manually adjust it, with some newer models, these features are in-built. 
How to Screen Mirror on Roku TV With Android Using Remote?
It may be highly probable that you don't receive any prompt to mirror your Android screen to your Roku TV even after having performed the above steps as mentioned above. Herein, you can try mirroring your screen from Android to your Roku using a remote. Below-mentioned steps will guide you on how to do it: 
Hold your Roku remote. Look for the "Home" button and press it as soon as you find it.
Watch the screen now. Move downwards till you reach the menu. Select the "Settings" option from there."
Scroll down again through the list of options. Click on "System"
A list appears under the head, "System." Subsequently, choose the "Screen mirroring" option from the list.
Click on "Screen Mirroring devices."
Seamlessly Stream Android to Roku
Streaming your content on a big screen is more satisfying when the procedure is simple. Here, we understood how to cast Android to Roku and begin mirroring. Besides this, if you want to access live-streaming and music broadcasts, you can watch Twitch on Roku and activate it using these ways to spice up your entertainment. Also, learn how does Roku TV works to know its functionalities better. So, next time, your gatherings can capture more cheerful & entertaining moments with Roku because you can do casting or mirroring within a few minutes.
Also Read: Roku Express vs Roku Stick, Pricing2023 (Updated)
FAQs
Ans: Well, you can mirror anything you want. But, you need to establish a strong connection to begin mirroring your Android to Roku TV. Also, keep both your devices updated and follow the instructions explained in the above section.
Ans: To connect your phone to Roku TV, follow the steps as explained in the above section. Or, go to the "settings" option from your Roku TV, and select "System" and the specifications. From there, you can connect your phone to Roku TV. 
Ans:  If this happens, navigate to "Screen mirroring" settings from settings through "Home" using your Roku remote. Select the preferred mode and press "OK" to continue. 
Ans: Mirroring offers extended support to play any content of your choice. But, you can also control it with these steps. 
Navigate to the "Settings" options on both devices. 
Check "Expert settings" on Android and the "Cast" option on the TV. 
Enable the screen mirror tab on both. 
Connect both devices with each other, and now you can control your content to be displayed. 
Ans: In March 2023, Roku introduced its first-ever smart TV, Roku Select, and Plus Series TVs. It will be available in a total of 11 models focusing on the features that streamers love while accessing free live TV, news, entertainment, sports, and much more. 
Sources: