How to Get HBO Max Student Discount in 2023 and Save Money on Subscription
As a student, it's natural to seek ways to be thrifty and save money. Balancing expenses like tuition, books, and various other necessities often leaves little room for entertainment. Surely every student has searched for free online movie streaming sites, but it hardly ever works, as those sites can't compare with streaming services like HBO Max.
But did you know, there's a great opportunity to enjoy your beloved movies and TV shows at a significantly reduced price. Have you ever heard about HBO Max offering Student Discount?
Max stands as a popular streaming service, hosting an extensive collection of movies and TV shows, including renowned titles like Game of Thrones, Friends, and The Sopranos. In this article, we'll look into all the essential details regarding the potential HBO student discount.
What is HBO Max?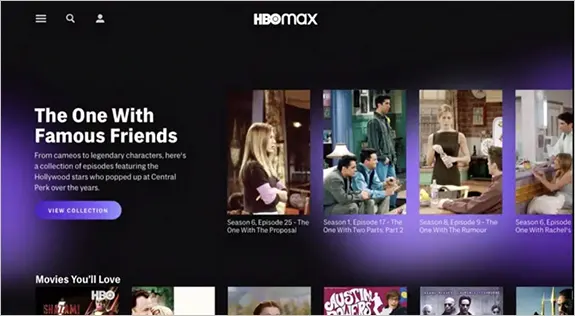 HBO Max stands out as a popular streaming service like Reelz, Peacock TV etc. that presents a diverse collection of entertainment options, including movies, TV shows, and exclusive content. This service represents an upgraded version that succeeded its predecessor.
With a rich range of renowned programming, Max delivers all the captivating content from the channel, including the highly acclaimed series "Game of Thrones," alongside a range of exciting genres and eagerly awaited premieres.
Notably, it sets itself apart by offering a cord-cutting experience, eliminating the need for a cable TV subscription, while ensuring accessibility across various streaming devices like Roku Streaming Stick or Roku Express and web browsers. One of its distinctive features is its practice of streaming newly released Warner Bros. movies on the same day as their theatrical release. Student HBO Max plans can deliver a great deal of entertainment at economical prices.
HBO Max Pricing In 2023
It offers two subscription options to enhance their streaming experience. Let's take a closer look at each plan:
Streaming with Ads: Available at a monthly cost of $9.99, this particular package is designed for those who prioritize their budget. However, it's important to mention that this subscription includes promotional content during your streaming sessions. If you're seeking a more economical alternative and don't mind occasional breaks, this plan may suit your needs.
Streaming without Ads: At an approximate price of $14.99 per month, you can enjoy uninterrupted streaming free from any disruptive advertisements. While this option comes at a slightly higher cost, it guarantees a seamless viewing experience, enabling you to fully engage in your preferred content without any disturbances.
When we consider various streaming platforms, this platform stands out for its relatively higher monthly subscription cost. Unlike other services like Netflix, Hulu, and Paramount+, which offer multiple pricing tiers, it follows a single pricing structure without any tier options. But HBO Max price (Student) can help in reducing the cost.
Does HBO Max Offer a Student Discount?
At the time of writing this piece, this service does not currently offer any special discounts for students. Many students often seek out HBO student discounts to save money on their entertainment expenses. In the past, student discounts from Max were available to eligible university students; however, as of now, no such discount is available.
Nevertheless, it is advisable to regularly visit the official website to stay updated on any offers or discounts that may become available in the future. Occasionally, they may introduce HBO Max student plans, allowing university students to enjoy their favorite shows at a reduced price.
While there is no specific student discount option, Max provides a range of subscription plans tailored to different needs and preferences. It is important to note that If you are already subscribed as a student, your monthly bill will continue at $9.99 (plus applicable taxes) until you decide to cancel.
Benefits of a HBO Max Student Discount
As mentioned earlier, it does not currently provide a discount specifically tailored for students. Nevertheless, let's explore some advantages that a HBO Max's student discount could bring to the subscribers:
1. Financial benefits: A student discount would offer the opportunity to access its extensive content library at a reduced cost. This would be particularly advantageous for students who are managing their expenses tightly but still desire to indulge in high-quality entertainment.
2. Exclusive collection: It has a selection of exclusive content that remains unavailable on other streaming platforms. From highly beloved TV shows such as "Game of Thrones" to movies that have received widespread acclaim, the platform presents a wide range of engaging content for students to relax and savor.
3. Flexible streaming: HBO Max allows users to easily stream their favorite shows and movies on various devices, including smartphones, tablets, smart TVs, and gaming consoles. This flexibility ensures that the students can enjoy their preferred content whenever and wherever they desire, at their convenience.
How to Get the HBO Max Student Discount?
Despite the absence of a student discount from HBO right now, there are various ways to minimize your expenses on the streaming platform. Consider these money-saving options instead of a student plan. Let's learn how to save cost on HBO Max subscription cost:
Opt for an Annual Plan Instead of Monthly Payments:
Subscribing to the platform for a year can lead to significant savings. The ad-supported yearly plan costs $99.9, allowing you to save $20 over the course of a year. If you prefer the ad-free option, it is priced at $149.99/year, which is approximately $30 cheaper than paying monthly for a year. This can serve as a good alternative to the Student HBO Max plan.
Keep an Eye Out for HBO Max Deals: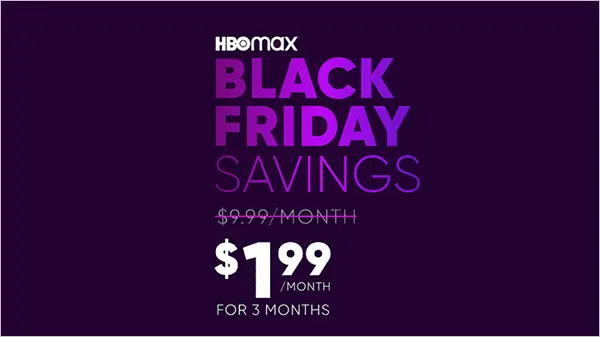 Subscription services often offer discounts to their users. Stay vigilant for potential future discounts that may arise, including the possibility of an HBO Max price discount for students being reintroduced.
Look for Promo Codes: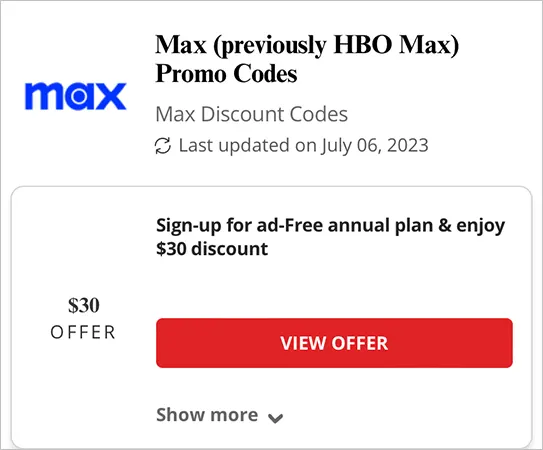 Conduct an online search to discover potential promo codes that can help reduce the subscription cost for Students on HBO Max.
Explore Alternative Payment Methods: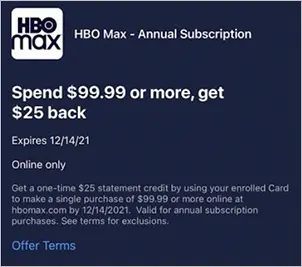 Some credit cards offer cash back options to avail membership, providing a percentage of money back on your subscription payment. Research the cashback benefits associated with your specific credit card to see if you can take advantage of this opportunity.
Utilize Student Beans Coupon Codes: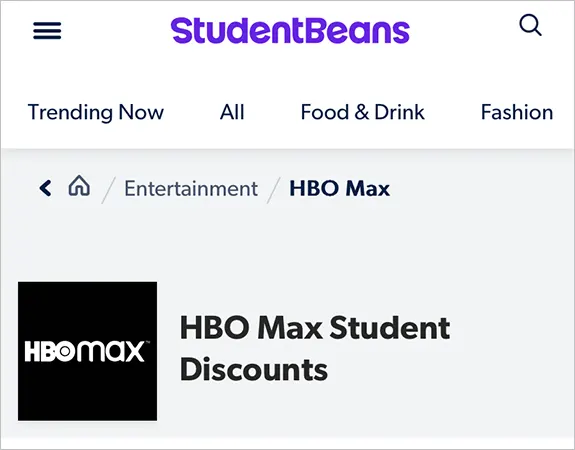 When you can't find any HBO Max student plan, you should consider checking out the Student Beans. Student Beans frequently offers a limited-time discount of 20% on yearly subscription.
This HBO student discount offer is not active currently, but it is advisable to frequently visit the website to find out about any new update.
Share your account using Together Price: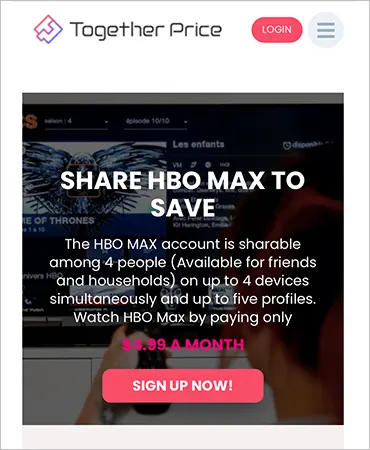 While HBO does not offer a Family plan, you can still share your subscription with others through Together Price. This secure and convenient network allows you to share your HBO Max account with two additional people within your friend group or household. Together Price also allows you to share plans of various other platforms like Direct TV or YouTube TV.
You can stream the channel simultaneously on three devices and create up to five profiles. By signing up for Together Price, you can access an ad-free experience for only $4.99 per month. Now this can be a better alternative to HBO student discount.
Read more: Top 20 Alternatives to WeakStreams for Sports Streaming in 2023
How to Get HBO Max Subscription for Free?
To access the channel without incurring any additional costs, there are a few avenues to explore. Firstly, if you are currently subscribed to HBO or HBO Now through your cable or satellite provider, you may already have access to Max without realizing it. This hidden benefit can come as a pleasant surprise for those seeking the enhanced content library of Max channel.
Alternatively, you can consider acquiring a bundled package that includes both television and internet services. For instance, AT&T offers the Fiber 1000 MPS plan, which includes HBO Max at no extra charge.
Another option worth considering is signing up for Hulu's subscription at a rate of $6.99 per month. By doing so, you gain the opportunity to add HBO Max to your package for free during the initial month. This can provide a temporary period of access without incurring any additional expenses.
Conclusion
Although there isn't an exclusive HBO Max's student discount available in 2023, there are alternative methods for students to reduce their subscription expenses.
By opting to register via a third-party service, making use of the free trial option, or sharing the subscription with relatives or companions, students can gain access to HBO Max's extensive content catalog at a more affordable rate. Therefore, if you're a student seeking top-notch entertainment, these alternative methods are definitely worth exploring.
I hope you are now aware of all the details about the HBO student discount. Enjoy Streaming!
Frequently Asked Questions (FAQs)
Ans: Unfortunately, there is currently no available offer for students to enjoy a complimentary trial. In the past, it did provide a 7-day trial period; however, this promotion concluded in December of 2020.
Ans: It's essential to note that HBO Max and Amazon Prime are distinct entities, and subscribing to one does not grant you free access to the other. If you opt for this service through Amazon Prime, you will be required to pay for both services individually.
Ans: When it comes to content, this service predominantly focuses on providing on-demand options rather than live TV channels. Nevertheless, subscribers gain entry to an extensive collection of beloved TV shows, movies, and exclusive HBO original content.
Sources:
Read next: