30 Old Hindi Movie Names for You to Watch Right Now
Here is the list of best movies of the 'The Golden Era of Bollywood' that a person must watch.
'Old is Gold' is an apt proverb for describing Hindi cinema, popularly referred to as Bollywood.
The 1940-60s era was a spectacular decade for Hindi movie fanatics, mushy romance, rib-tickling comedy, and music that was to die for; you got a complete package in every movie.
Classical films and music that is remade even today after so many years. Chances of the time machine being invented anytime soon are very slim, but we have a list of 30 movies from 'The Golden Era' of Bollywood for you to binge-watch and get mentally transported to that era.
Mughal – E – Azam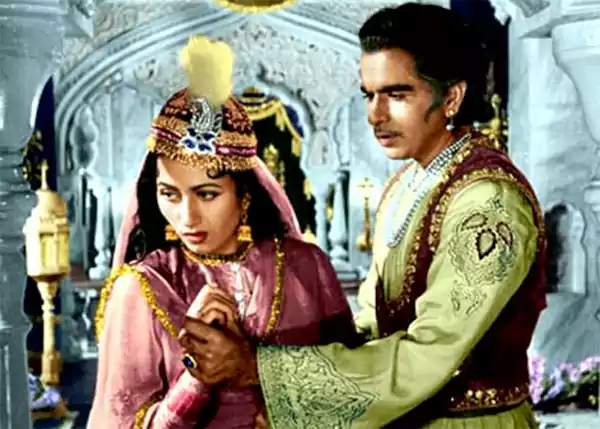 Karimuddin Asif's masterpiece has gained cult status over the years. Starring Madhubala, Dilip Kumar, and Prithviraj Kapoor, this 1960 film set the bar high for direction and music in Hindi cinema.
It is a love story between Prince Salim, heir to the throne, and Anarkali, an ordinary court dancer.
Mother India
India's first official entry to the Oscars in 1951, Mother India, depicts the construction of India's womanhood at that time.
Radha is an exceptional daughter-in-law who does everything from taking care of her in-laws and domestic work to working in the fields.
It beautifully showcases a woman's struggle in raising her sons through many trials and tribulations while sticking to her moral code.
Sholay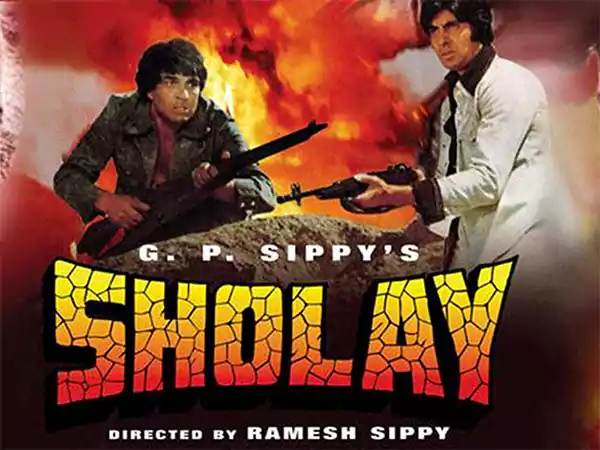 You can't be a fan of Hindi cinema if you have not watched this 'magnum opus' of Ramesh Sippy. This movie offers everything from action, adventure, and drama to romance and comedy.
It is the story of two ex-convicts, Jai and Veeru, who were hired by Thakur Baldev Singh to help him in catching a dacoit, Gabbar, who has been destroying the village of Ramgarh.
Amar Akbar Anthony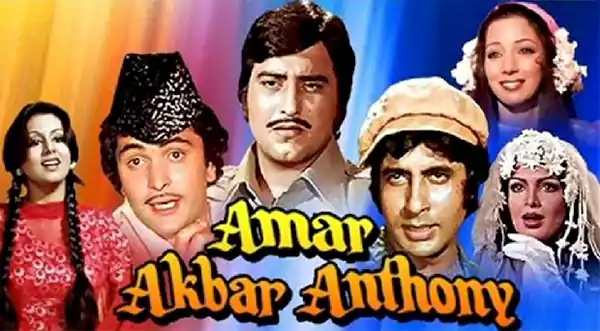 Directed by Manmohan Desai, starring Amitabh Bachchan, Rishi Kapoor, Vinod Khanna, Parveen Babi, and Neetu Singh.
Amar Akbar Anthony is a story of three brothers who were raised in distinct households with different religious beliefs. They reconcile after many years by chance and set out to avenge those who separated them.
Pyaasa
After 65 years of its release, Pyaasa is more relevant today than ever. It beautifully depicts the impossibility of poetry in a cruel world.
It is a story of a struggling poet, Vijay, played by Guru Dutt, who faces constant rejections in his pursuit to get his work published.
Nonetheless, he gets assistance from a prostitute, Gulabo, out of the blue. Gulabo, played by Waheeda Rehman, falls in love with him and his work.
Guide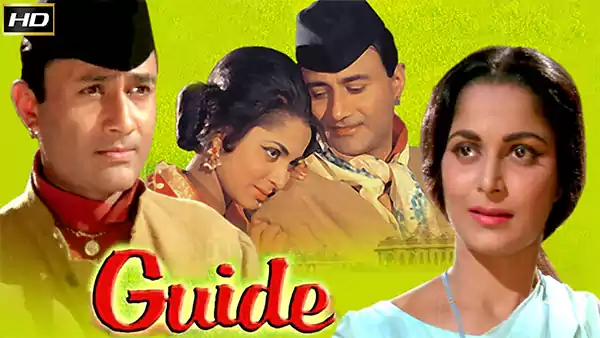 When misinformed villagers mistake a tourist guide to be a sage, it leads him to reflect on his past and lost love, and he embarks on a journey to search for spiritual wisdom to guide villagers.
Directed by Vijay Anand, and starring Dev Anand and Waheeda Rehman, Guide, offers drama, romance, and fine music.
Pakeezah
It is Meena Kumari's last film to be released during her lifetime and is regarded as one of the finest performances of her career.
Pakeezah is the story of Sahibjaan, a beautiful courtesan who is unable to break away from the prostitution cycle until a forest ranger, Salim, falls in love with her.
However, Salim's wealthy parents are against their union.
Deewar
Deewar is an action crime film written by Salim-Javed and directed by Yash Chopra. It stars Amitabh Bachchan, Shashi Kapoor, Neetu Singh, Praveen Babi, Nirupa Roy, and Sudhir.
Vijay turns to crime as a result of being haunted by the past, while his younger brother Ravi goes on to become a sincere police officer.
Fate comes to play and Ravi is sent to catch Vijay.
Mahal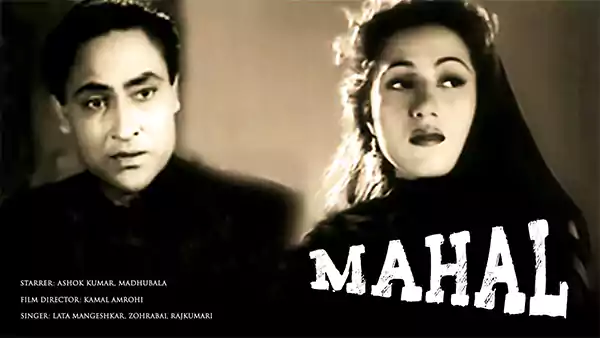 Starring Ashok Kumar and Madhubala, Mahal is a horror film directed by Kamal Amrohi. Shankar moves into a mansion and becomes acquainted with its tragic past.
Things take a scary turn when he starts getting visions of a woman claiming to be his lover.
Shree 420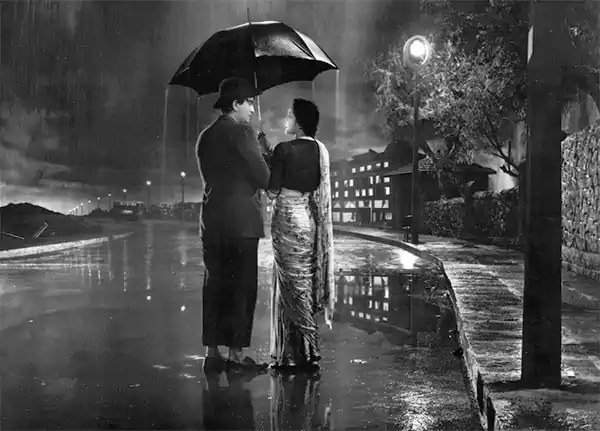 Shree 420 is about Raj who falls prey to the lure of a wealthy businessman, Sonachand, and adopts an unethical lifestyle.
As the movie progresses, Raj becomes aware of Sonachand's immoral ways and he decides to make good.
Kaagaz Ke Phool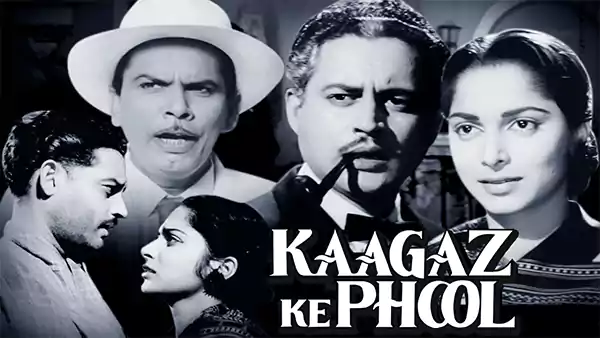 Directed by Guru Dutt, Kaagaz Ke Phool is the love story of a film director with an orphan woman. He transforms her into a successful movie star and ends up making his wife unhappy with their liaison. Kaagaz Ke Phool stars Guru Dutt and Waheeda Rehman.
Haathi Mere Saathi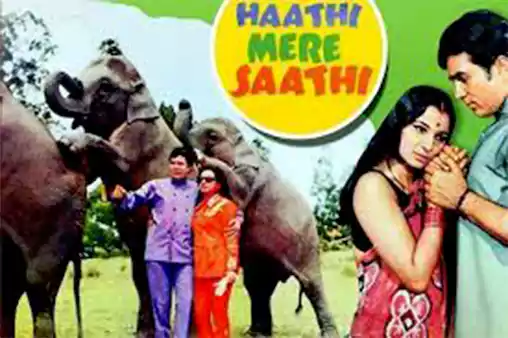 This movie is about the dilemma faced by a man named Raju, who gets attached to two elephants.
However, his wife afraid for the safety of their child gave him the ultimatum that he must choose between the elephants and his family.
Bhumika
Bhumika, played by Smita Patel, shows the life of an actress and how she starts as a child artist and goes on to become a star.
However, when she indulges in affairs with some prominent men in the film industry, her marriage with Keshav begins to crumble.
Bobby
Bobby is the debut film of Rishi Kapoor and Dimple Kapadia, as director and producer, Raj Kapoor wanted fresh faces for his teenage love story.
Bobby is a love story of Raja, the son of a rich Hindu businessman, and Dimple, a poor Catholic girl. Raja and Dimple strive to be together despite their families' attempts to keep them apart.
Awaara
Starring Raj Kapoor, Prithviraj Kapoor, and Nargis Dutt, Awaara is a story of a poor man Raj who indulges in criminal activities to feed his mother. He kills his employer when he attacks his mother.
Things take a dramatic turn when his estranged father turns out to be the judge. As the story moves along, Raj also falls in love with Rita and decides to reform for love.
Do Bigha Zameen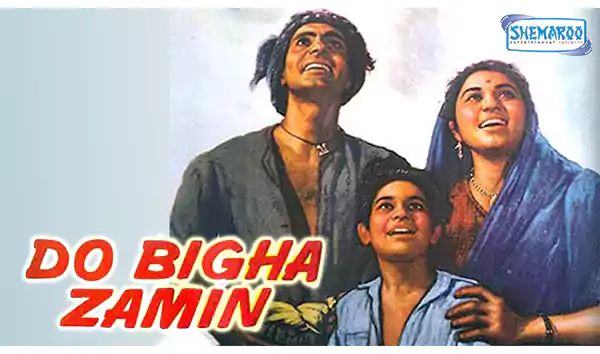 The Star cast of Balraj Sahni, Nirupa Roy, Ratan Kumar, and Meena Kumari does justice to Rabindranath Tagore's Bengali poem 'Dui Bigha Jomi' on which the film is based.
It is a story of a poor farmer and his hardships, who goes to Calcutta and becomes a rickshaw puller in the hope of earning money to settle his debts and save his land.
Barsaat
Raj Kapoor and Prem Nath play the role of two city dwellers, Pran and Gopal respectively, who fall in love with two village girls, Reshma and Nimmi, played by Nargis Dutt and Neela, respectively.
After they return from their holiday, Gopal flirts with other girls while Pran soon realizes that his feelings are genuine.
Barsaat is a bit melodramatic in today's context, yet undeniably one of the intense love stories of that time
Anand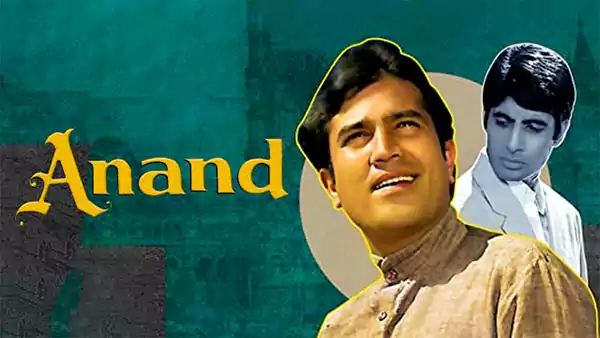 It is the story of a terminally ill man, played by Rajesh Khanna, who lives every moment of his remaining life to the fullest.
His doctor, played by Amitabh Bachchan, undergoes metamorphosis because of Anand's zest for life and decides to write a book about him.
Sahib, Bibi Aur Ghulam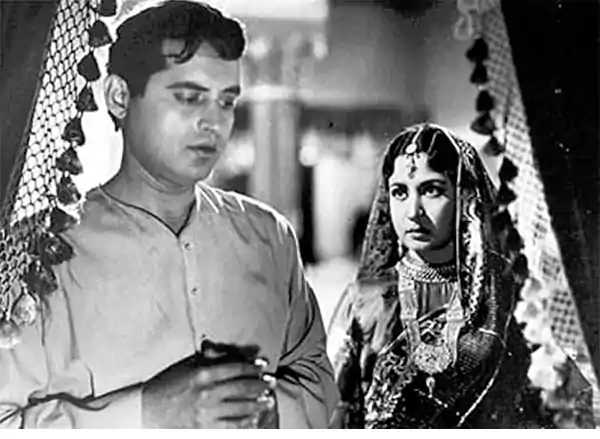 It is a story of a wealthy man who, in order to satisfy his desires goes to a brothel which breaks the heart of his faithful wife. However, she gets close to a lowly servant, Bhootnath.
Bhootnath is deeply saddened when he becomes aware of the desperate measures taken by her to woo back her husband.
Madhumati
It's a paranormal romantic musical directed by Bimal Roy, starring Dilip Kumar, Vyjayanthimala, Pran, and Johnny Walker.
Deven learns about his previous birth and a woman named Madhumati whom he loved when he is forced to seek shelter in a mansion due to a landslide.
Dosti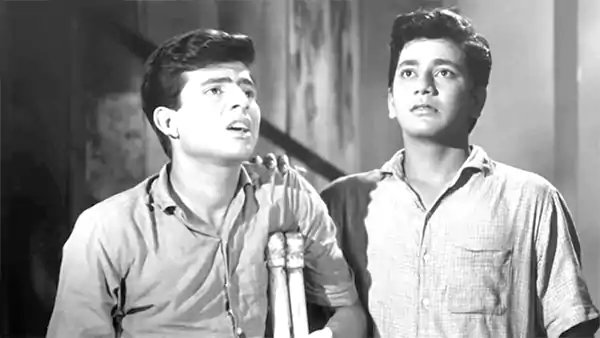 Dosti is a musical drama that depicts a series of unfortunate events in the life of Ramu that cause him to lose his parents and both his legs.
His survival on the streets is made easier by his visually impaired friend Mohan. The story of the survival of two friends drawn together by fate and friendship is both heartwarming and inspiring.
Aradhana
Aradhna is the movie that made Rajesh Khanna an overnight superstar in the hearts of people. It's the story of Arun, an Air Force pilot, and Vandana, played by Sharmila Tagore.
Arun and Vandana meet during a vacation and get married secretly but the Fate had different plans for the duo and Arun dies in a crash, leaving a pregnant Vandana.
From here on the story shows the struggle for acceptance of single mothers in society. No one accepted their 'secret marriage', hence, Vandana was forced to put her child up for adoption and later work as his nanny to stay close to him.
Sangam
Sangam is a story of a young man, Sunder, who falls in love with Radha. After being rejected by Radha, he sets on to prove his worth and enrolls in the Indian Air Force.
In an extremely risky mission, Sundar disappears and is assumed to be dead. However, he returns to marry his love, Radha.
The movie takes a dramatic turn when he comes across a love letter and realizes Radha had been planning to marry his best friend.
Purab Aur Paschim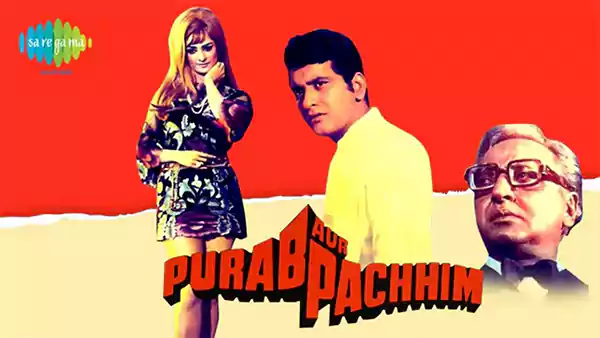 Bharat, played by Manoj Kumar, is a freedom fighter's son. When Bhagat travels to England for his studies, he is disheartened to find people's low opinions about India and Indians.
He strives to change the mindset regarding India and Indians with the help of Prithi, a blonde girl of Indian origin, and both of them end up falling in love.
Bombai Ka Babu
Raj Khosla casts Dev Anand and Suchitra sen, a rare appearance in Hindi cinema.
Bombai ka Babu is a story of Babu, who gets blackmailed by Bhagat. Bhagat blackmails Babu about reporting his murder to the police if he doesn't assume the identity of a wealthy heir, Kundan, and steals his money for him.
Things take a dramatic turn when Babu falls in love with Kundan's sister.
Chupke Chupke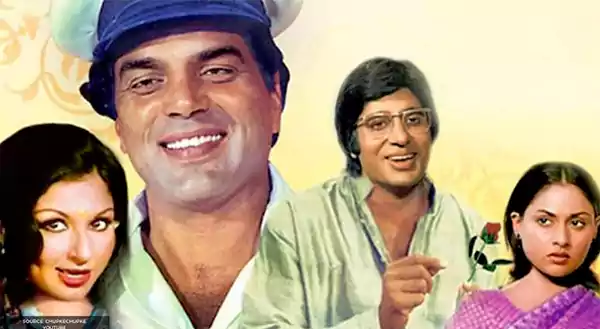 Another hit film of the duo – Amitabh and Dharmendra, also starring Jaya Bachchan.
It is the story of Parimal, whose wife, Sulekha is in awe of her brother-in-law, Raghuvendra's intelligence.
However, Parimal takes it upon himself to break this facade and goes to work for Raghuvendra as his driver to fool him.
GolMaal
It is a comedy film directed by Hrishikesh Mukherjee which shows a businessman Shekhar who discourages his employees from taking up any hobbies.
The movie takes a comical turn when Ramprasad who works for Bhavani finds him at a hockey match and he ends up lying to him about having a twin.
Chashme Buddoor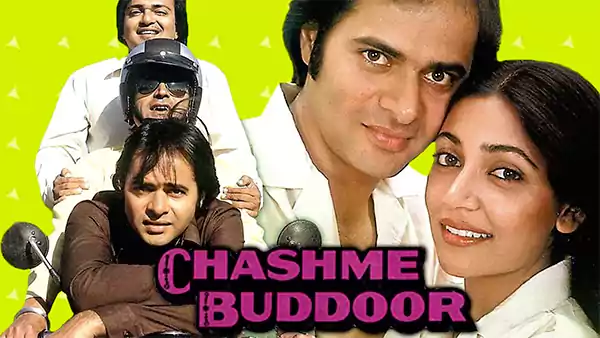 It is a story of a nerdy guy winning a beautiful girl's heart and being wooed by his two friends as well.
Out of shock at how their shy and bookworm roommate managed to succeed, they scheme a devious plan to break apart the two lovebirds.
Starring Farooq Shaikh, Deepti Naval, and Rakesh Bedi, this romantic comedy can work as your mood uplifter on those gloomy days.
An Evening in Paris
Heartbroken Deepa, played by Sharmila Tagore, travels to Paris where she meets Shyam, played by, Shammi Kapoor.
Shekhar gets fascinated by Deepa's beauty and eventually, both of them fall in love. However, Shekhar who is played by Pran requires money to pay off his debts.
Hence, he plans on marrying Deepa for her wealth. He replaces Deepa with her lookalike to prevent the marriage of Deepa and Shyam.
Hare Rama Hare Krishna
Starring Zeenat Aman, Dev Anand, and Mumtaz, Hare Rama Hare Krishna is a story of a young man who travels to Kathmandu to bring home his long-lost sister.
However, he finds his sister with a band of hippies and realizes that his task is more difficult than he thought as he will have to get into the drug-induced dark world of his sister.
Also Read: