What is Spotify Web Player & How to Use it?
Spotify, a widely-used modern streaming service, grants its users the opportunity to enjoy their beloved songs on various devices like smartphones and computers. Whether you opt for the app on your mobile or desktop, you have the liberty to enjoy music anytime and anywhere.
However, it might pleasantly surprise some users that the platform also offers a Spotify web player. Unlike Spotify Pie Chart and Palette, this is an official feature that allows you to directly stream music from your preferred web browser on either your mobile or desktop. The best aspect is that there's no need to burden your device with any additional app, freeing up precious space for other important content.
In this article, we will explore all the important aspects of using the web player Spotify and more. Let's go!
What is Spotify Web Player?
The Spotify web player functions as a convenient method to enjoy its offerings without requiring any app installations. It operates as a Spotify web browser that grants access to various features available on the app when you log in.
By using Spotify player, you can subscribe to the service, access all your saved songs and playlists, play music and podcasts, and also explore sections like Assistance, Privacy, and Conditions.
Considering that web browsers are frequently among the most utilized applications on computers, this web player proves to be quite useful. Furthermore, it is designed as a progressive web application (Progressive Web App), enabling users to experience it as if they were using a native application.
How to Access the Spotify Web Player?
Spotify maintains a familiar approach with its web player, presenting users with a recognizable interface similar to the app. The icons and functions resemble those in the app, promoting an easy-to-use experience.
By utilizing the web player, users gain access to their accounts and the vast catalog, enjoying all the main features they love from the official app. It aims to ensure a seamless experience, leaving nothing to be missed.
Below are the instructions to access the web player Spotify:
Launch your preferred web browser and navigate to the official website by typing in the URL: "https://open.spotify.com/".
Locate the "Log In" option situated at the top right corner of the webpage and select it.
Input your unique username and password into the appropriate fields.
In case you don't have a Spotify account yet, worry not! You can easily create one without any charges. Simply click on the "Sign Up" button and adhere to the provided instructions.
After successfully logging in, you will gain access to Spotify.web player. Enjoy your music streaming experience.
To listen to music on Spotify using your computer's web browser, you also have the option of utilizing the "Web Player" link that can be located within the desktop application. This Spotify-web player is fully compatible with well-known web browsers such as Chrome, Firefox, Edge, and Safari.
In case you experience any troubles accessing the player, it is advisable to confirm that your browser is up to date. Moreover, you might want to consider clearing your browser's cache and cookies, as doing so could potentially resolve any problems you encounter.
Also read: How to Get HBO Max Student Discount in 2023 and Save Money on Subscription
How to Use Web Spotify Player?
The Spotify player offers users a comprehensive overview of its various sections. Let's delve into these aspects and learn how to navigate them effectively.
Home Page
Upon logging into the Spotify player, you'll encounter an uncomplicated interface. The left-hand side displays your primary options, arranged in order of your frequent usage. These options comprise Search, Home, Your Library, and Recently Played.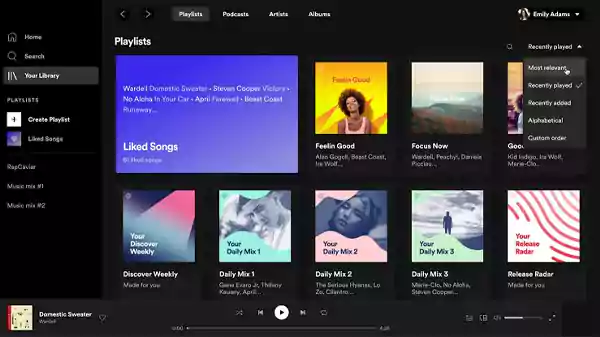 Moreover, the homepage presents the following elements:
1. Convenient shortcuts to various sections such as Quick Links, Featured, Charts, Podcasts, New Releases, Genres, and Discover.
2. Personalized music recommendations based on your listening history.
3. Recently played tracks for quick access.
4. Specially curated artist suggestions tailored to your music preferences.
5. Themed recommendations and a compilation of top music selections.
6. Handpicked podcast recommendations.
It's worth noting that the content displayed on the homepage is designed to suit your individual listening habits, which means that you might encounter more or fewer options than the ones listed above.
Search Option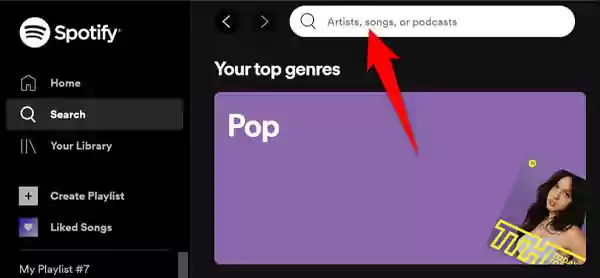 If you have a specific piece of music in mind, there's a simple method to locate it. Upon clicking on the search tool, a compact dialogue box will appear at the top of the screen. Type in your search term there, and you'll quickly discover the music you desire.
Your search term can include anything related to the musical realm – a song title, an album's name, an artist's identity, a music genre, or even a playlist. As you start typing, a list of potential matches will start appearing. Just opt for the one that aligns with your taste, and indulge in the melodic bliss.
The search results page is ingeniously divided into several sections, encompassing Artists, Albums, Playlists, Podcasts, and Episodes, streamlining your exploration through the diverse array of content at your disposal.
Artist and Album Pages
The artist and album pages on Web Player Spotify offer users a comprehensive view of an artist's music collection and related content.
To explore an artist's page, simply select their name, and you'll find their most popular tracks prominently showcased at the top. Following that, there's a collection of albums, with the most well-received releases listed first.
For more albums, you can click the "See Discography" link on the page's right side. As you continue scrolling, you'll uncover additional details about the artist, such as their biography, curated playlists featuring their music, available merchandise, and similar bands that fans also enjoy.
Managing Your Music Library on Spotify Player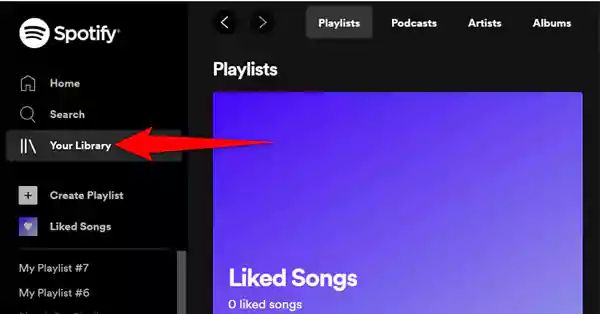 The convenient "Your Library" feature on Spotify-Web Player empowers you to save all your favorite music in one easily accessible place. If you want to save another user's playlist or an album to your library, just select the heart icon located above the tracklist on the playlist or album page.
For individual track saving, simply hover over the track and click the heart icon that appears next to the track length. Saving an artist is also effortless; head to their page and click the "Follow" button at the top. This same method applies to adding podcasts to your library as well.
In the "Your Library" section, you can conveniently access your saved albums, artists, podcasts, and playlists using the tabs provided at the top. Additionally, there's a distinct tab named "Liked Songs" in the left sidebar, positioned above your playlists. This allows you to save individual songs to your library without having to save the entire album.
How to Manage Playlists in The Spotify Player?
Playlists serve as the central feature of music platforms, and Spotify's web player provides a smooth method for handling them. To get started, navigate to the left-hand side and locate the "Create Playlist" option to initiate a new playlist.
Expanding your playlist with songs offers various approaches. One straightforward method involves dragging and dropping tracks from any section within Spotify into your playlist. Alternatively, you can right-click on a song, opt for "Add to playlist" and then select the preferred playlist name. This applies to albums and singles as well, making it effortless to include them in your playlist.
Sharing your awesome playlist with a friend is easy too. Right-click on the playlist you want to share, then click "Share" and "Copy link" to get the link for sharing.
Now Playing Feature & Queue
When using the Spotify web browser and music is playing, the Now Playing bar becomes visible at the bottom. This bar provides various controls such as play/pause, repeat/shuffle, and track skipping.
To access additional options, simply click on the small arrow located above the album art on the left side. There, you'll find a heart icon that allows you to add the current track to your Liked Songs list effortlessly.
On the right side of the Now Playing bar, you'll spot the volume slider for adjusting the sound level, the queue icons, and the Connect feature.
By clicking on the queue icon, users can access the upcoming playlist and easily manage the arrangement and removal of songs. To set a song to play next, simply right-click on the song and choose the "Add to queue" option.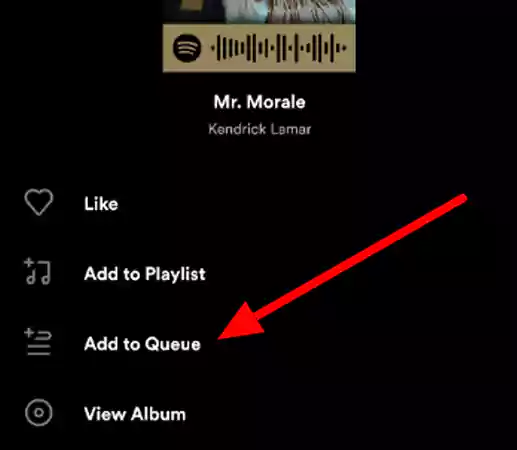 Additionally, the Connect feature allows users to enjoy their music on a different device of their preference. For example, if someone is using earbuds to listen to Spotify on their iPad, they can simultaneously play the same song on their phone and control it seamlessly from the Spotify web player.
Features and Benefits of the Spotify-Web Player
The Spotify player offers a range of fantastic features for music enthusiasts without any cost. One notable advantage is its compatibility across various web browsers, including Chrome, Firefox, Edge, and Safari.
Another impressive aspect is its seamless playback sync. By installing the desktop app, users can effortlessly switch between their computers and smartphones while retaining their playback progress. You can begin enjoying a song on your computer and effortlessly continue listening on your smartphone without losing your spot.
Moreover, the web player allows for remote playback control. Utilizing your smartphone or tablet, you can conveniently manage playback functions like skipping tracks or adjusting the volume, even if you're away from your computer.
Additionally, it provides a personalized interface, granting users the freedom to customize the web player's appearance according to their preferences. This includes altering themes, font sizes, and other elements to create a more tailored music-listening experience.
Limitations of Spotify Player
While the Spotify.web App offers a great user experience, like any program, it's not without its limitations. Every individual's preferences and needs vary, making perfection elusive. Let's explore some of the downsides of the Spotify player:
1. Portability
One of its main advantages, portability, also poses a significant vulnerability. Due to its easy transportability, it requires users to sign in through a browser to access the Web Player.
2. Sound Quality
The sound quality of the Web Player falls slightly short when compared to the desktop app. This discrepancy arises from the web player's maximum bitrate, which is capped at 256 kbps. In contrast, the desktop app boasts a maximum bitrate of 320 kbps, providing a better listening experience.
3. Offline Playback
Regrettably, the Spotify web player lacks offline playback for users without a Spotify Premium subscription. Unlike the desktop app, which allows users to download songs for offline listening, the web player restricts users to online access only.
How to Fix Spotify Web Player Not Working?
Spotify's web player experience might occasionally encounter glitches, but no worries, there are troubleshooting steps you can try based on the potential issues you might be facing, considering your operating system and browser.
To ensure the smooth functioning of the Spotify player, it's essential to check your internet connection. Often, poor internet connectivity can be the culprit behind any issues you might face. Verify the stability and speed of your internet by visiting a site like Speedtest.net.
If you find that your internet connection is stable, try refreshing the Web Player. Simply press Ctrl+F5 on your keyboard to refresh the page. This action can effectively resolve any temporary glitches that may be causing disruptions.
Another step you can take to optimize the web player's performance is clearing your browser's cache and cookies. Over time, these files can get corrupted and potentially hinder the player's functionality. Refer to your specific browser's instructions on how to clear cache and cookies. For instance, in Chrome, you can access this option through Settings > Privacy and Security> Clear browsing data.
If the issue persists, consider experimenting with a different web browser. Some browsers tend to be more compatible with Spotify, such as Chrome, Firefox, and Edge. Trying an alternative browser might help you identify if the problem is browser-specific.
Update your browser, outdated browser versions might not be compatible with the latest Web Player. Visit your browser's website and follow the instructions for updating.
Disable your ad blocker, Ad blockers sometimes interfere with the Spotify player's functionality. Disable the ad blocker for the website through your ad blocker's settings.
A simple restart might resolve any underlying issues. Press Ctrl+Alt+Delete, then click on the "Restart" button.
If the problem persists after trying these steps, you can reach out to Spotify support for further assistance.
Additional troubleshooting tips:
Ensure you have the latest version of Spotify by checking for updates on the Spotify website.
Check the official website for any known issues, they often post messages about known problems.
Try using a different network connection, switch from Wi-Fi to a wired connection, or try a different network altogether.
Experiment with a different device, if you're using a laptop, try a desktop computer, or test it on a mobile device if you're using a desktop computer.
Also read: Comprehensive Guide to Use Bet.com/activate on Multiple Devices
Web Player vs Desktop App: Which is Better?
Determining the ideal choice between using dedicated apps or a web player for music streaming remains inconclusive. Users tend to opt for either option based on their circumstances and the available resources, as intended by the developers.
For those who prefer a slightly enhanced sound quality and the convenience of downloading music for offline listening, dedicated apps are more suitable. This advantage is particularly evident for premium users.
If your intention is to primarily listen to music on a single device and you are a regular user, then selecting the app would undoubtedly provide you with the most optimal experience. Whether it's on your phone, tablet, or PC, the app ensures the best performance.
On the other hand, if your music-listening habit extends across various devices or you face restrictions in installing and downloading the app, utilizing the web player becomes the perfect solution for your needs.
Conclusion
The Spotify player provides a convenient solution for individuals seeking to enjoy Spotify music without relying on the app on their devices. This option comes at no cost, functions smoothly across all browsers, and offers various features and advantages. Nevertheless, it's crucial to acknowledge certain drawbacks, including sound quality limitations and the absence of certain features available in the desktop app.
For those seeking to enjoy music on their computers, the Spotify web player proves to be an excellent choice. However, for those in pursuit of the utmost sound quality or a plethora of features, exploring the desktop app may be preferable.
Read next: What is an Incorrect Quote Generator? Best Incorrect Quote Generator Websites in 2023
Frequently Asked Questions (FAQs)
Ans: Using the app to enjoy your favorite music might seem tempting, but Web Player offers a fantastic alternative. Simply access it through your web browser, make sure you have a reliable internet connection, and voilà – music at your fingertips.
Ans: Ensure that your internet browser is current and running the latest version. If not, kindly proceed with updating it. Following the update, access the web player using the private browsing mode (incognito window). Additionally, be mindful that certain services may have restricted access to public or shared networks like those found in educational institutions or workplaces.
Ans: It offers free accessibility on computers, smartphones, and tablets, making it easily reachable from anywhere. The free version can be accessed through the mobile app, website, or desktop software. 
Source