Why Is My Alexa Not Working? Common Issues and Solutions to Get Your Device Back on Track
Alexa is a voice-controlled virtual assistant that enables users to control Amazon Echo smart speakers and other connected devices. Although Alexa and Echo usually get along nicely, problems happen from time to time.
Alexa is an all rounder service that can do a lot more stuff than people use it for. You can use your Alexa to listen to music, watch Youtube for hours and explore the top free online movie streaming sites without even lifting a finger. Doing all these will surely be fun, but what if Alexa is not responding to your commands.
That can be caused by several factors. Try a few easy troubleshooting techniques to get your gadget working properly once more.
In this article, we will demonstrate what to do if your Alexa device is unresponsive.
Common Issues of Alexa or Echo Dot Not Responding
Before we get into specific troubleshooting tips, it's important to grasp the most common reasons behind Amazon Echo not responding. Here is why your Alexa device is unresponsive:
Issues With Connectivity: If your virtual assistant is unable to connect to the internet, it will be unable to conduct the majority of its functions.
Errors in Voice Recognition: It may not react to voice commands due to microphone problems, failure to recognize the wake word, or other voice recognition errors.
Music Playback Problems: If the music service you're using is incompatible with the Amazon Echo device or if there are connectivity issues, the virtual assistant may have difficulty playing music.
Device Connectivity Problems: It may be unable to connect to other devices, such as smart home devices, due to compatibility or connectivity issues.
Firmware or Software Issues: It may also encounter problems due to obsolete firmware or software.
If you know how to charge a dab pen without a charger, the same isn't the case with Alexa and requires charging or staying connected with a power to function.
How to Fix Various Cases of Alexa Not Working?
In this section, we will discuss the potential fixes for the most common cases of Alexa not working.
Alexa Not Responding to Voice Commands
Here are some steps you can follow to troubleshoot this issue of Echo Dot not responding:
Checking Alexa's Microphone and Connectivity: First, make sure your device's microphone is not muted, blocked, or damaged. Examine the status indicator on your device to determine its connectivity. If the indicator is orange or red, it indicates a connectivity problem.
Ensure that the Wake Word is Recognized: The device reacts to specific wake words such as "Alexa," "Echo," or "Computer" If the device does not recognize the wake word, try an alternative wake word.
Updating the Alexa App or Resetting the Device: If the preceding steps do not fix the issue, try to update the app or reset the device. Retry using it after the gadget has been reset.
Alexa Not Playing Music
One of the most frequently cited issues for Alexa devices' unresponsiveness is the device's inability to play music.
Checking the Music Service's Compatibility with Alexa: Make sure the music service you're attempting to use is compatible with the device before attempting to stream music. Alexa is compatible with many streaming platforms, including Spotify, Amazon Music, Pandora, and iHeartRadio.
Making sure Alexa is connected to the internet: The lack of an internet connection on the gadget is another frequent cause of not playing music.
Alexa Not Connecting to Other Devices
You can try a few different things to solve the problem if your Alexa device doesn't link to other devices, like speakers or smart home gadgets.
Verifying Alexa's Compatibility with Other Devices: The devices you want to link should be compatible with the device. To confirm that the gadgets are functional, check the manufacturer's website or the Alexa app.
Ensure All Other Devices Are Connected to the Same Wi-Fi Network: Your devices won't be able to join the Alexa device if they aren't on the same Wi-Fi network.
Alexa Not Responding to Smart Home Commands
Alexa might not be able to recognize a new smart home device that you're trying to install. Here is what to do:
Checking the Smart Home Devices' Alexa Compatibility: Make sure the Alexa device is compatible with the smart home appliances you want to use.
Checking for Updates: Ensure that the most recent updates are loaded on your device. Check for any accessible updates in the Alexa app. Install updates if they are accessible.
Search for the Smart Home Hub: If you have smart household appliances that need a hub, make sure the hub is operational. Verify the hub's connectivity to your Wi-Fi network and that it is operating effectively. Your smart house appliances might be unable to connect to the virtual assistant if the hub is down.
Alexa Not Performing a Specific Skill
Within the digital assistant, Alexa skills act as voice-activated applications. What to do if a skill, like Spotify or Pandora, doesn't function as expected is as follows:
Review the Wi-Fi Connection on Your Computer: If the Wi-Fi is not functioning properly or is down, Alexa won't be able to use a skill.
Ensure that the Skill is Activated: The skill will be rendered useless if you or another user unintentionally disables it. See if the issue is resolved by re-enabling the skill if required.
Disable and Re-enable the Skill: Sometimes, the skill is jolted back into action by this basic troubleshooting procedure.
Use the Correct Name for the Skill: For instance, you cannot introduce the Jeopardy skill by referring to "that word game." Find the precise name of the skill, and then try it again.
Other Common Issues
In addition to the problems stated in the preceding sections, there may be other frequent problems when you find that the Alexa server is unresponsive. In this part, we'll talk about a few of these problems and how to fix Alexa not working.
Alexa Not Connecting to Wi-Fi
Check the Wi-Fi Signal: Make sure that your device is within range of your Wi-Fi network and that the Wi-FI is working properly.
Restart the Device: Restart your Echo device by unplugging it from the power supply for a brief period of time.
Restart the Router: To restart your router, remove it for a brief period of time, then replug it into the power source.
Verify your Network Password: Make sure you're using the right Wi-Fi network & password when you input it into the app.
Forget the Network and Rejoin it: Select the Wi-Fi network you want to ignore in the Settings > Network section of the Alexa app after launching it. Then click "Forget network" and then attempt to join the network again.
Alexa Bluetooth Issues
Verify Compatibility: Make sure the gadget you are attempting to connect to Alexa via Bluetooth is compatible and complies with its Bluetooth requirements.
Bring Gadgets Closer: To prevent any potential disturbance, move the Bluetooth device and the Alexa device closer to one another.
Device Reset: Try resetting both your Bluetooth device and your Alexa device before attempting to connect them once more.
Disable and Enable Bluetooth: Turn off Bluetooth on both devices and turn it back on again.
Verify the Number of Connected Devices: Make sure that the highest permitted number of Bluetooth-enabled devices is not exceeded.
Update Software: Ensure that the Bluetooth device and your Echo device are both running the most recent versions of the firmware.
Fixing the Red Ring of Death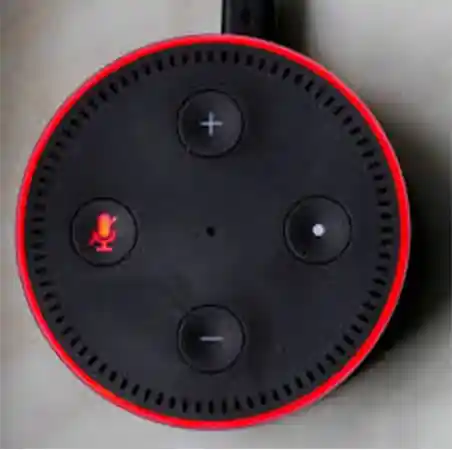 When an Echo device displays the red ring of death, a serious problem needs to be fixed immediately. Here are the methods to resolve this problem of Alexa not working:
Check the Alexa App: Check to see if there are any error messages or notifications about the problem when you open the app on your smartphone.
Check the Hardware Components: Verify the functionality of the device's circuitry by checking it thoroughly. For a repair, if any component is broken, get in touch with customer service.
Device Factory Reset: You can conduct a device factory reset if none of the steps above work. Be careful to back up your data first because doing this will erase all of your settings and data.
Suggested Article: Funimation vs Crunchyroll: Which is the Best Anime Streaming Service
Conclusion
Alexa is a beneficial tool that can improve the convenience and enjoyment of your everyday life. Unfortunately, however, it can experience problems that are frustrating to fix, just like any other device.
An unresponsive Alexa device is inconvenient when you're in a hurry and must ask a simple question. Fortunately, if your Alexa becomes unresponsive, the methods above will assist in getting it back up and running.
FAQs
A: Press and hold the volume down and microphone buttons for 20 seconds or until the light ring goes orange to reset your Alexa device. The gadget will be returned to default settings as a result.
A: Open the Alexa app, navigate to Settings > Device Settings, pick your device, and select the Wake Word option to modify Alexa's wake word. Choose the brand-new wake word from the selection of offered alternatives.
A: Select Devices > Echo & Alexa > [your device] in the Alexa app after launching it. Next, choose Alexa's Voice under Settings (the cogwheel). 
A: A flashing yellow light typically indicates that you have a new communication or notification. The yellow light disappears after you ask Alexa to "read my notifications" or "play my messages."
---
Sources:
Also Read: