Doja Cat No Makeup Looks: Know How Doja Looks Without Makeup
Doja Cat is well known for her out-of-the-box music and artistic qualities. She is young, she is talented, and she is here to stay, and she looks amazing without makeup….Bare Face!!
American rapper, singer, record producer, and songwriter, Doja Cat began her career on a very accidental note when she gained instant popularity after her song 'Mooo!' became popular and turned into a meme song.
But that doesn't mean that she didn't have her share of struggles. Doja went through a rough patch after she dropped out of school. She was looking for a job but couldn't find any, during those days she found her solace in music. Doja used to browse the internet all day long looking for beats and instruments to download and create her music which she frequently posted on sound cloud.
Before she found her way with hip hop and pop-up culture, Doja used to live in an ashram in the mountains of Agoura Hills at the age of eleven, with her mom. They practiced Hinduism, danced in Bharatnatyam style, wore head-covering scarves, and even sang bhajan at the temple.
Amidst the growing skincare and makeup industry, where every famous person is starting their line of either makeup or skincare products, Doja doesn't shy away from being seen without makeup. Let's take a look at thirty-eight times when Doja Cat was seen with a no-makeup look;
Best Doja Cat Without Makeup Looks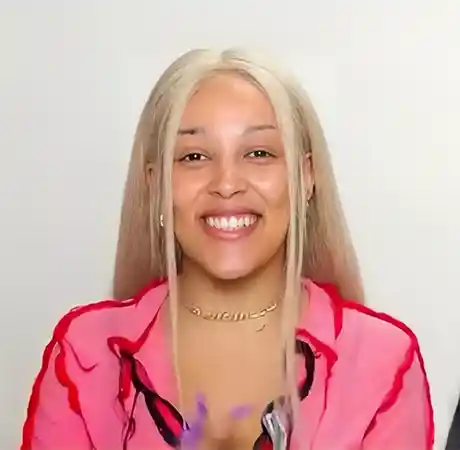 This is Doja Cat's still shot from a GRWM video, it was taken right before she proceeds to apply makeup on her face while filming it for her fans. Doesn't she look so beautiful here with her unblemished skin and straight blonde hair?
If you're a Doja Cat fan you know that she is known for being candid on her Instagram Live. She makes frequent appearances on Instagram Live to interact with her fans and is often seen as her casual self without makeup just like in this screenshot. While many celebs don't do Instagram live until they are well-groomed in their carefully picked-out clothes, Doja isn't one to follow the game.
Doja Cat looks so adorable even without makeup. She is blessed with clear and naturally beautiful skin. Kudos to her for not editing her pictures before uploading them and normalizing the fact that bare skin has flaws and there is nothing wrong with it.
In a world where celebrities are subjected to brutal trolling and various memes are made about them for being seen without makeup, Doja doesn't seem to care and we are 100% here for it. She seems so confident and unbothered in her natural self without makeup.
Even though Doja's signature style is a bold eye shadow with bright lip colors, her Instagram page is filled with pictures of her with little to no-makeup. This doesn't say anything about makeup being wrong or right but the fact that women don't need to conform to society's standards of beauty. Go for a glam look when you please and for a bare no-makeup look when you wish with equal confidence.
This is a quirky image of Doja wearing a yellow fur jacket, pink cap, and sunglasses, and completing the look is the classic Doja funny expression.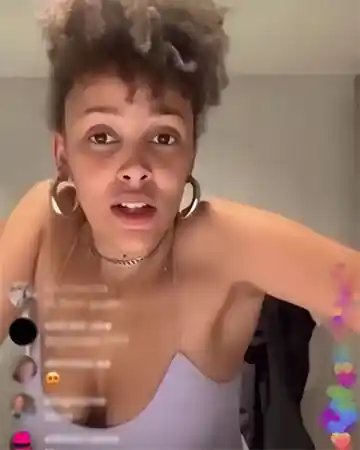 Another screenshot from one of Doja's Instagram Live sessions. Here she can be seen wearing a lavender top with round silver earrings, and her curly hairdo is stealing the show. Doja's skin looks bare without any makeup on, and here she is, slaying again in her natural self.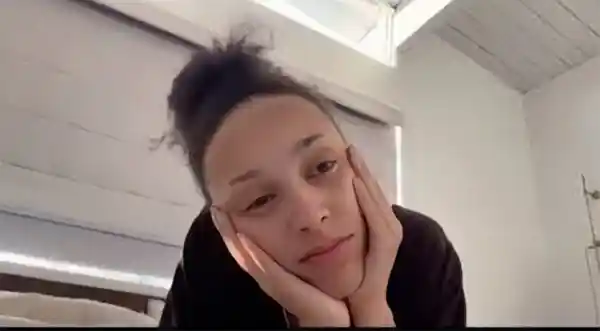 This is a cutesy picture where Doja can be seen holding her face with her palms. Her outfit isn't clearly visible here but she is wearing black and black tends to bring out her natural beauty even more. The reason why Doja looks so pretty without any makeup isn't just her beautiful face and skin but the fact that she truly embraces herself in every form and looks and this confidence of hers exudes beauty as no makeup or outfit can.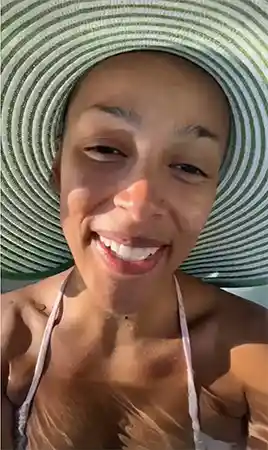 Doja Cat can be seen chilling by the beach wearing a very big green and white hat along with a lilac-colored bikini. Doja decided to ditch her bronzer and highlighter for a beach look and she is looking so ravishingly beautiful.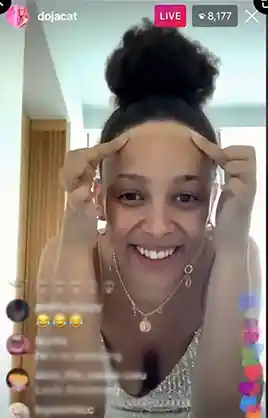 There is a separate fanbase for Doja's Instagram live sessions. We just love her candidness and her authenticity in her live sessions. She comes to Instagram Live with the sole aim of interacting with her fans and doesn't care about what she's wearing or if she looks 'Gram worthy' or not, as it should be.
Here Doja can be seen in a lovely silver glittery dress, a beautiful pendant, and without any makeup.
Doja Cat can be seen slouching and making a silly expression in red lingerie. The singer posted this picture on Instagram with the caption,
"Don't make me cause a scene baby lol???".
And the comment section of this picture is so wholesome with over 20,000 comments and most of them supporting and applauding her. This picture also garnered 3.6 million likes.
This is another 'before' screenshot from one of her GRWM videos. Doja has her pink hair tied at the back and her naturally beautiful skin and features are the center of attention here.
Here you can see Doja Cat being her usual self that is uninhibited and unconcealed. This seems like a picture taken right after she won at something, maybe a game or when one of her songs topped the charts, knowing Doja it can be anything that brought out this expression of hers. Nonetheless, we can't help but mention time and again how beautiful Doja looks in all her no-makeup pictures just like in this one.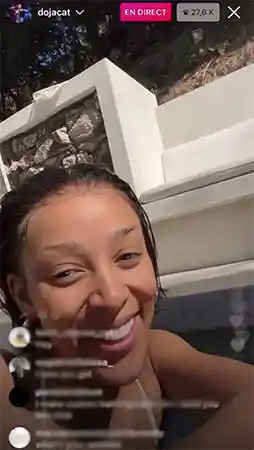 Doja Cat without makeup in another Instagram Live session with 27.6 K people. Her sun-kissed skin is glowing and shining in this one.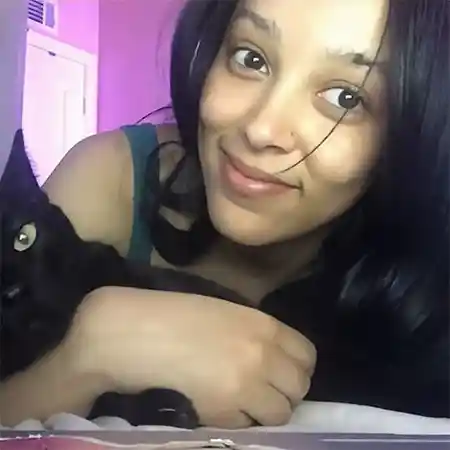 Doja Cat can be seen posing with a black cat in this snapshot. She looks so precious in this picture holding her cat with so much tenderness and not to mention that lovely smile and her big beautiful eyes are stealing the limelight.
'Kittenz' absolutely loves this picture of Doja on her Instagram. This is the look that most of us have when we are irritated about something or if we are having a bad day in general. But how many of us have the confidence to click a selfie in this expression and post it online for millions of people to see? Maybe you'd do so with makeup on but without makeup like Doja? Not even 1% we're sure… Here's a round of applause from Doja for promoting a positive body image and healthy self-love on the internet.
This no-makeup selfie of Doja Cat is clicked in that awful angle in which if anyone opens their front camera by mistake they shut it quickly to avoid seeing how they look but not Doja. She clicks a picture and posts it online for millions to see. That's queen behavior right there.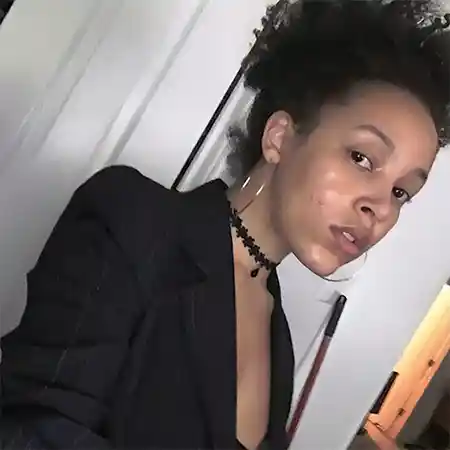 Doja's unflinching self-confidence is to be applauded here. She posted this bare-skin, no-makeup picture online and her acne and blemishes can be seen clearly. Doja Cat is setting the right example here for those who are insecure about their acne that one should own their imperfections and slay irrespective of them.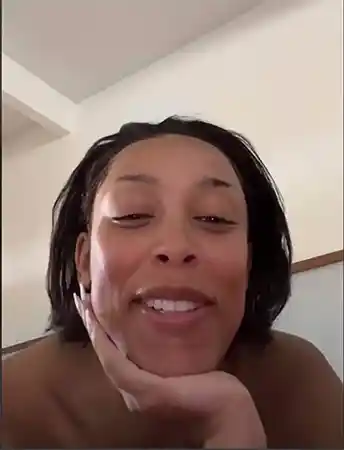 Doja Cat in another no-makeup selfie looking as raw and natural as it gets. Her unbothered smile is a testament to the fact that she doesn't care about what others think or say. She is gonna do what she wants without giving a flying fuck about anyone.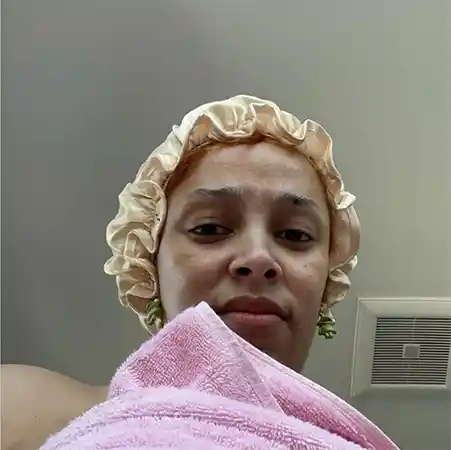 Doja posted this 'don't wanna have a shower but kinda have to' annoyed face selfie on Instagram, and most of the comments were about how they relate to being in this situation every other day. She is wrapped in a pink towel with a golden shower cap, and we also get a sneak peek of those green earrings.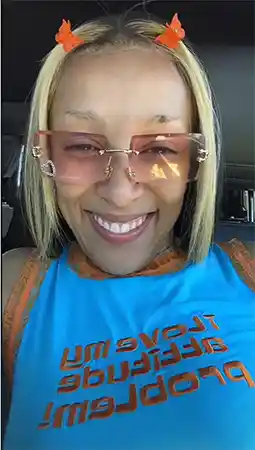 Here's another no-makeup selfie of Doja Cat. She has a cocky smile on her face only she knows the reason behind it. She is donning a blue top with two orange butterfly clips in her hair on each side and we love those tainted pink sunglasses with a cute heart towards the right.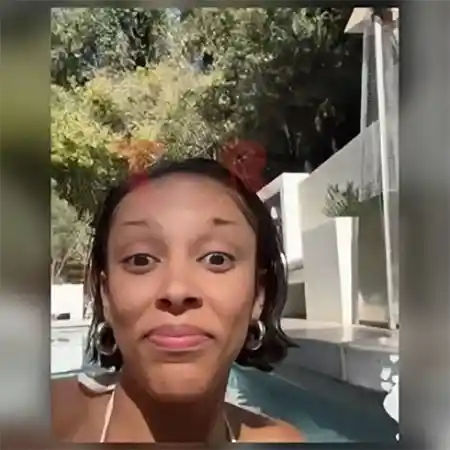 Doja Cat no-makeup selfie by the pool. She looks surprised about something and this expression of hers is highlighting her beautiful eyes. Sunkissed pictures can make anyone, with or without makeup, look ten times more attractive and it's Doja Cat we're talking about so the ratio automatically increases tenfold!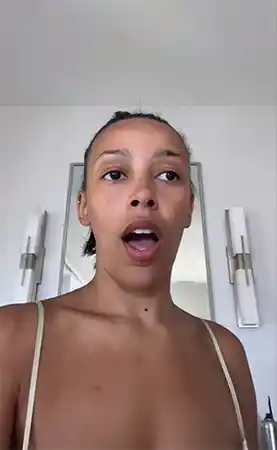 Doja Cat is standing with her mouth wide open in her bathroom with her hair tied in a bun and flaunting her no-makeup skin.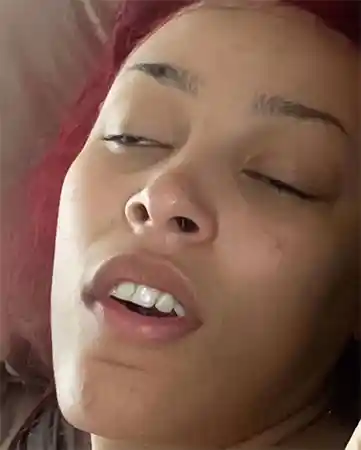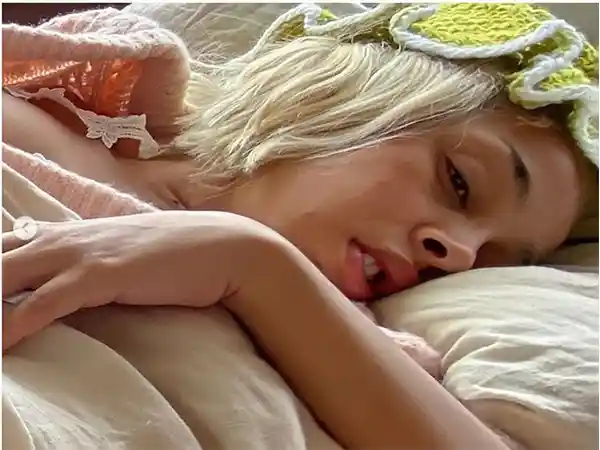 Trust Doja Cat to do the most random things in the most hilarious manner. She tweeted a bunch of close-up pictures of herself while sleeping with the caption,
"Sleep is wonderful for the genitals and I also have an IQ of 560 because of it."
New goal in life: To achieve Doja Cat's level of self-confidence and assurance in life.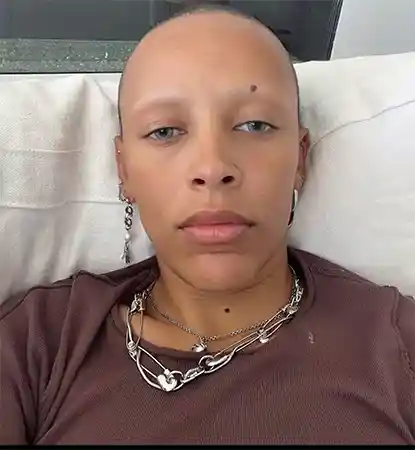 Doja Cat is rocking this bald no makeup look. Just love her expression that is somewhere between a poker face and an eye roll. She can be seen in a casual t-shirt with lots of silver jewelry.
Doja Cat without makeup on Instagram Live with 20.9k people attending her live session. We have said it earlier and we'll say it again that she deserves an award for letting go of her inhibitions and showcasing her flaws and imperfections to the world with so much confidence and power.
Doja Cat is ready to head out all dressed up without any makeup. On that day, Doja Cat woke up and decided to kill with her looks. She looks so hot in this picture sporting a black bralette, olive green pants, a pullover, white heels, and a hat to finish the look.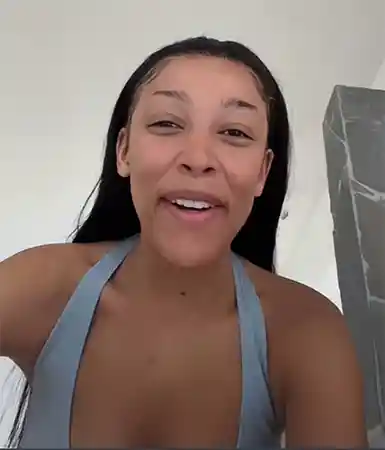 Doja Cat looks super cute in this no-makeup selfie. Her hair is left open at the back and her bare skin is glowing with the happiness that radiates from her smile.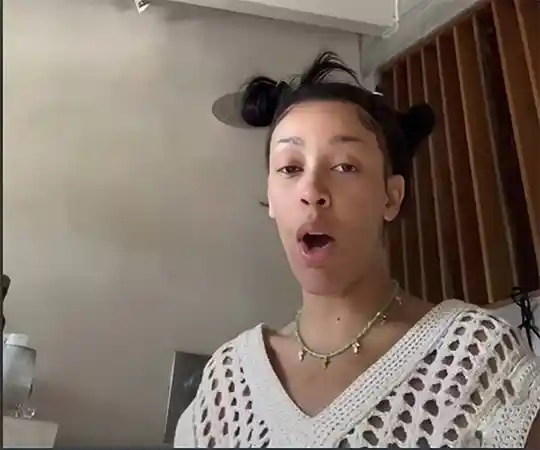 What could have happened that left Doja Cat's mouth wide open? We don't know, but one thing that we do know is that even with an open mouth and makeup-free skin she manages to steal the show each and every time. Special mention to her cutesy hairdo of two buns on either side.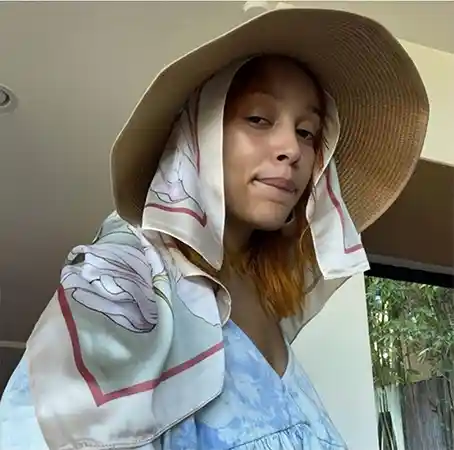 Doja looks so pretty in this one and we love how she lets her natural beauty take over, and this speaks volumes about how self-assured she is as a person. Because it takes guts in times like now when the internet is so brutal to be so self-assured and own it proudly.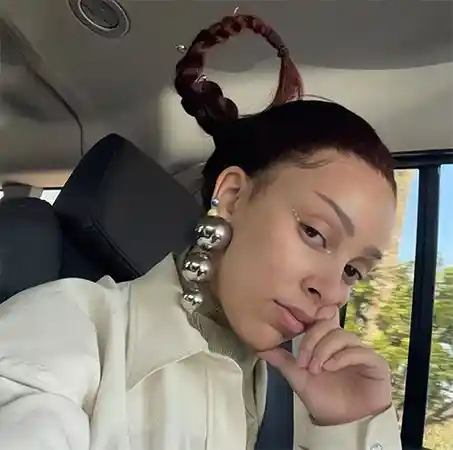 Doja can be seen in the car all set to go somewhere. She is all dressed up and looking so pretty with very little to no makeup on as one can clearly see her acne scars. Brownie points for that hairstyle and those earrings.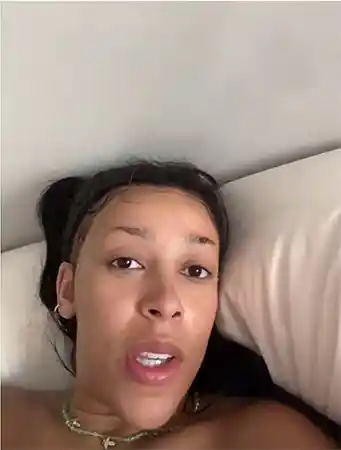 While looking at this picture the first thing that comes to mind is how on earth can one be without makeup, make such faces, and click selfies with the weirdest angles and still manage to steal the show. Don't gatekeep your secret Doja Cat! Spill some beans…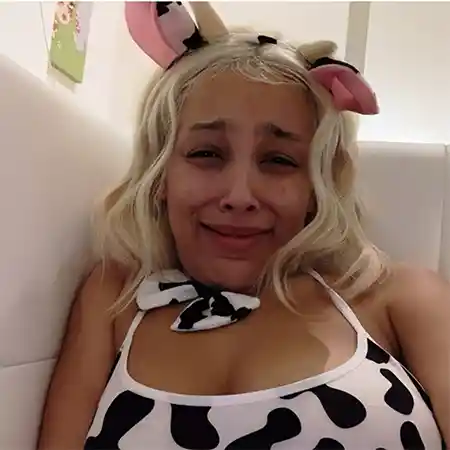 Look at Doja Cat looking so cute in a cowgirl outfit without any makeup. Her videos have often gone viral for being normal, candid, hilarious, and relatable. And we can see why… she doesn't hesitate from making silly faces at the camera and posting those videos and pictures online.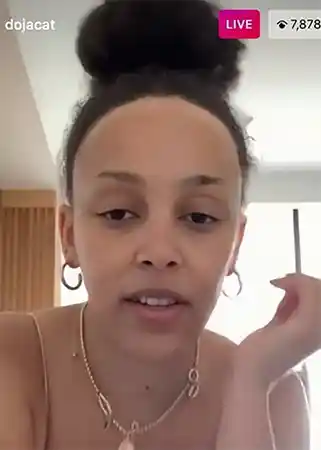 It takes nerve to expose one's raw and real self to millions of people online especially when people are waiting with bated breaths to spew hatred. We have to give it to Doja for not succumbing to the pressure of social media and for doing it her way. She looks so confident and charming in this Instagram live session with her fans even though she is without any makeup.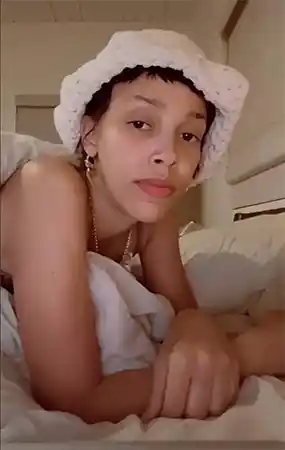 Doja Cat can be seen snuggling in bed and the glow on her skin is telling us that she took this picture post her night skincare routine. She doesn't have any makeup on yet she is looking so lovely and attractive here.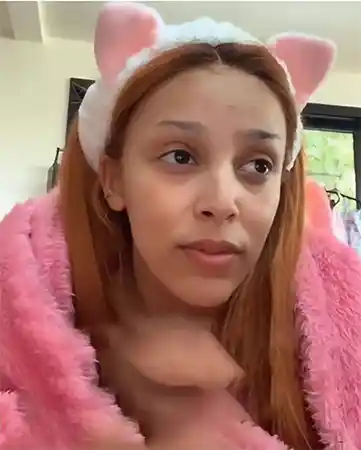 This is a screenshot from one of her Tiktok videos where she can be seen wearing pink cat ears and a fluffy pink jacket with her natural skin without a single trace of any makeup on it and she's looking so pretty.
Doja in all-white without makeup. White is the color of peace and isn't she looking so peaceful in this one? While we don't know if that's true or not from just a picture, peace is definitely the vibe of this picture for sure.
Doja Cat in a Pikachu outfit and without any makeup. This is a blurry picture but it doesn't hide her natural beauty and curly black hair that are making her look so adorable. Doja Cat in this fuzzy Pikachu avatar received likes and comments from 4.1 million people on Instagram.
Doja Cat posted this no-makeup selfie on her Instagram story and she wrote "my stummy hurt" along with it. We absolutely love this candid picture of hers and she sure gets extra brownie points for her hairdo. Her no-makeup skin looks so radiant with a natural shine and glow. Only Doja can manage to look so beautiful with a stomach ache!
Frequently Asked Questions (FAQs)
Ans: Amala Ratna Zandile Dlamini is the real name of Doja Cat.
Ans: No, Doja's parents aren't Indian. It is a hoax that originated because of her South Asian real name. Her mom, Deborah Elizabeth Sawyer, is Jewish-American, whereas her dad, Dumisani Dlamini is South African.
Ans: Doja Cat's name actually has an interesting origin. She chose this combination of Doja Cat for the love of weed and her cat. When she began rapping she was highly addicted to weed, hence 'Doja', the fact that it sounds feminine also helped with the choice.
Ans: Doja Cat was born on 21 October 1995, which makes her 27 years old as of 2022. 
Ans: The musician Doja Cat fondly refers to her fans as 'Kittenz'. 
Ans: We are as clueless about this as you are as Doja decided pretty early on in her career that she won't speak about her private life until she is married. 
Ans: During the South American Festival Tour of March 2022, Doja announced, 
"Everything is dead to me, music is dead, and I'm a fucking fool for ever thinking I was made for this… This shit ain't for me so I'm out. Y'all take care."