6 Effective Methods to Fix "Your Organization's Data Cannot Be Pasted Here" Error
Have you given a shot at copying and pasting stuff from Outlook or some other Microsoft Office program into a different app and then bumped into a message that goes like "Your organization's data cannot be pasted here"? This message is because of the policy your company has set up in Microsoft Intune. This policy stops data from being moved to apps that aren't for work.
Unable to copy and paste in Outlook web access can mess up your work and make you feel annoyed. Data holds immense significance in decision-making and accomplishing tasks, which underlines its importance in resolving this matter.
Throughout this article, we will get into the meaning behind this message, its triggers, and the steps to fix it. Furthermore, we'll provide some useful pointers to prevent encountering this message again.
Don't let this message hinder your data management process. Follow the solutions and tips we talk about in this article to solve the "Your Organization's Data Cannot be Pasted Here" problem. With our help, you can work better and make sure data moves smoothly between your work apps and tools. Let's start fixing this annoying problem!
"Your Organization's Data Cannot Be Pasted Here" Error Explained?
If you're trying to move data from Outlook to another program, but you are unable to copy and paste it into Outlook web access, it's likely due to this error. This error usually pops up when you copy something and try to paste it into a program where it's not allowed. This often happens because of Microsoft Intune Protection Policies, which aim to prevent unauthorized copying of data online.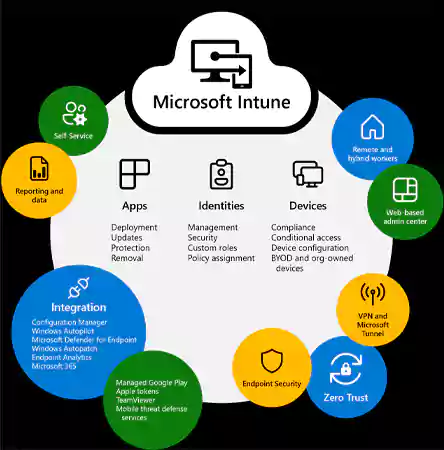 When you come across this issue of Outlook copy and paste not working on an Android device, you can fix it by pressing and holding your finger on the spot where you wish to put the information. Following that, simply pick the 'Paste' option. Double-check that the data you're attempting to paste is easy to copy so it can be pasted smoothly. For those who are using the Google Keyboard, there's a chance you could encounter a notification stating, "Your data can't be pasted here" It's basically a suggestion from Gboard, nothing too complicated.
Suggested Read: What is Spotify Web Player & How to Use it?
Why Does This Error Occur?
The error message pops up when you're trying to move information from your company's Microsoft Office tools to other apps. This happens because the settings in Microsoft Intune, which your company uses, have rules that prevent sharing data beyond work-related apps. These guidelines are in place to make sure that your company's data stays safe and isn't mistakenly shared or accessed by people who shouldn't have it.
When you attempt to transfer information from Microsoft Office applications to non-approved apps for work, Intune steps in, it examines whether the application you are utilizing has the right to reach your company's data. If the application lacks proper authorization, a message of error will appear, conveying, "Your organization's data cannot be pasted here."
Here are a couple of additional explanations for why you could encounter this issue:
The application you're attempting to insert the information into lacks the necessary permissions to access your firm's data.
You're not allowed to move data from Microsoft Office applications to non-approved work-related applications.
There could be a problem with the Microsoft Office program itself that is triggering the difficulty.
Your computer may not be on the latest security updates.
How to Fix the "Your Organization's Data Cannot Be Pasted Here" Error?
Imagine you're facing this problem on your computer. If this happens, you can try these steps to fix the issue message on your Windows 11 or Windows 10 system.
Change Microsoft Intune App Protection Policy 
Businesses use something called Microsoft Intune to keep data safe on computers given to workers. If you are facing the Outlook copy and paste not working issue, it means your work's Intune settings are stopping data from moving between apps.
If you can change things on the computer, adjust your work's Intune policy to allow data to move between different apps. Or, you can create a new policy that lets data move between any apps.
Note: If you can't reach your company's Intune dashboard, talk to your boss.
Step 2: Click on Apps on the left side, then choose App protection policies.
Step 3: Choose a policy you already have and go to the "Data Transfer" part.
Step 4: Then, choose the option "Restrict cut, copy, and paste between other apps" and pick "Any app."
Step 5: If there's no policy for app protection, choose "Create Policy" to make one.
Step 6: Then, go to Settings > Data Protection > Data Transfer, pick the option "Restrict cut, copy, and paste between other apps," and choose "Any app."
Step 7: Click OK to save your changes to the protection policy.
If you are still unable to copy and paste in Outlook web access after you make changes in Intune, restart your computer and try checking your organization's data access requirements.
Restart your Computer
At times, if your Office software is lagging or unresponsive, you could encounter difficulties when trying to duplicate or transfer data. To address this concern, you have the option to shut down the Office application and subsequently reboot your computer.
It's advisable to remember to save your ongoing tasks before concluding the Office program's session or initiating a computer reboot. This precaution ensures that no unsaved work is deleted.
Here's what you can do:
1. Find the Start button on your computer screen and click on it.
2. Look for the option called "Power."
4. Click on "Power."
5. Click on the option to "Restart."
After your computer reboots, make another attempt to copy and paste the data. If the issue persists, you could explore alternative fixes outlined in this article.
Update the Microsoft Office Suite Manually
We've previously mentioned that encountering the 'Your Organization's Data Cannot be Pasted Here' error is a possibility when using older versions of Microsoft Office applications.
To address this, it's necessary to manually perform updates on the Microsoft Suite. This process ensures that all applications are brought up to their latest versions. Interestingly, this approach has proven effective for many individuals, particularly when copying and pasting tasks involving both Outlook and Office applications.
To initiate the procedure:
Launch any Microsoft application, such as Word, Excel, or PowerPoint.
Access the "File" menu and click on the "File" option.
Within the opened tab, choose the relevant account.
Below the "Manage" segment, you'll notice a box housing various update options.
Click on the downward-pointing arrow within the box and opt for "Update New" from the provided list.
Paste Into a Different File or Document
On occasion, the error message "your organization's data cannot be pasted here" might be tied to a particular file. Give it a try by launching a fresh file within the Office software and verify if pasting copied text is feasible.
If this test yields positive results, there's a possibility that the file you're unable to paste into has incurred some corruption. To navigate around this matter, you could create a replica of the problematic Office file and attempt pasting text into this duplicated version.
Make the Necessary Changes and Save the File
To address the problem related to this error of Outlook copy and paste not working, perform specific adjustments to a fresh document.
As an example, launch a new spreadsheet using Excel. Input some text into one of the cells, and subsequently, complete the vacant areas with a suitable shade. After that, press the previous arrow. Opt for "Yes" when asked to validate your intention to save the file. Inspect the recently saved file. This will aid in ascertaining the feasibility of transferring the data from your company into it at this point.
Enable Editing on the File
The first time you open a file you've downloaded from the internet using Office apps, the file will initially open in a mode known as "Protected View." This is a safety feature designed to lower the chances of potential harm from files that might be damaged or carry harmful elements.
When you're in a Protected View, you can't paste or edit the text in your documents. Sometimes, you'll notice a message below the menu in Microsoft Office programs saying "PROTECTED VIEW" when you're using a file that you can't edit.
If you wish to begin making changes to the file, locate the "Enable Editing" button at the lower part of this message. Give that button a click, and then you'll have the ability to edit the content in the file.
If you're encountering the error and it's related to pasting text into the document, you might want to test whether turning off Protected View resolves the issue. If the error message continues to show up, then checking your organization's data access requirements is a good idea.
Additional Tips to Avoid the "Outlook Copy and Paste Not Working" Error
Here are some extra tips to assist you if you are unable to copy and paste in Outlook web access or any other office app:
Always ensure that you have the latest version of Microsoft Office: Microsoft frequently provides security updates for Office. By maintaining the most recent version, you can aid in safeguarding your computer against security vulnerabilities.
Stay updated with the latest security patches for your computer: Apart from updating your Office software, it's crucial to have your computer equipped with the latest security patches. These patches play a role in shielding your computer from potential malware and security risks.
Be careful when you're copying and inserting information from work software: If you're not sure whether you're allowed to do this, it's better to be cautious and avoid inserting it.
Take security measures: In situations where you need to copy and paste data from work applications, ensure you take secure measures. For instance, you could use a virtual private network (VPN) to connect to your company's network, particularly if you're on a shared computer.
Suggested read: Why Is My Alexa Not Working? Common Issues and Solutions to Get Your Device Back on Track
Conclusion
In summary, the error message that states "your organization's data cannot be pasted here" serves as a protective element. The main aim is to protect your organization's data from being accessed or stolen by unauthorized individuals.
If you come across this error, there are a number of actions that can be considered to address the issue. These options include checking your organization's data access requirements, confirming that your Microsoft Office software is updated, restarting your PC, attempting to paste the material into a different file or document, or enabling the edit function for the specific file.
You can also try modifying the Intune Application Protection Policy to allow copy and paste from managed apps to non-managed apps. By following the tips in this article, you can help prevent this error and keep your company's data secure.
Read next: What is an Incorrect Quote Generator? Best Incorrect Quote Generator Websites in 2023
Frequently Asked Questions (FAQs)
Ans: If you're using an Android device, holding down on the screen for an extended period will reveal the option to paste the previously copied information. If you encounter a similar problem, try holding down on the target location for pasting. In most cases, this extended press action resolves the matter, as the message received seems more like a piece of advice or suggestion from Google Keyboard.
Ans: If you're utilizing the Outlook application on your iPhone, you might encounter an alert saying, "Data from Your Organization Can't Be Placed Here" This notification can pop up while attempting to copy content from Outlook to a different application. You can resolve this problem by expanding the list of permitted apps in the MS Intune Policy Management. This action ensures that the destination app for your pasted content is officially authorized.
Ans: Microsoft Intune Policy constitutes a collection of regulations for overseeing the devices, applications, and information within your establishment. These regulations offer the means to govern aspects such as device safeguarding, application authorizations, and information entry. Nevertheless, it is important to use it carefully, ensuring the policies align accurately with your organization's requisites.
Sources